Try Flame of Fortune The New Slot From Barcrest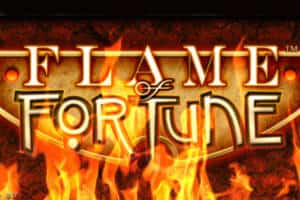 Flame of Fortune is another addition to the Big Bet video slot games coming from Barcrest Software. Experienced gamblers are sure to remember their previous release, Boulder Bucks which had the same Big Bet option available. Flame of Fortune is the better looking one from the two games, but is still on a low visual level compared to the video slot games from other leading providers.
The design is simple with only 10 pay lines and a 5×3 grid, but the game concept is much more complex than you can imagine. Everything in Flame of Fortune depends on your actions alone and you have to think ahead in making the best choices possible to increase your chances of winning big.
The starting point of your strategy is the bet per spin size as it directly affects the RTP value and the extra features in the game. The minimum recommend bet on Flame of Fortune is $2, because it allows the wild symbol to substitute for all symbols including the Golden.
With some help from the wild to fill in one or two spots on a pay line, the much needed golden symbols 5 of a kind win, will trigger the Fortune Drop bonus. As the name suggest this feature can award decent and big payouts because of a few simple facts. The game play is now transferred to a different set of a 5×5 grid, with winning combinations only horizontally and vertically.
There are no pay lines and 3 same symbols in a string generate a win on the screen. New symbols land in their position and more wins can be formed, until no more winning combinations are possible and the feature ends. Still the fun doesn't have to stop there and can continue further if you decide to gamble your winnings for a chance to win an Enhanced Fortune drop feature.
On the other hand you can also go back to base play with a much smaller cash prize then what you've already won, but that's the whole point of the gamble feature.
The Enhanced Fortune drop has extra symbol features determined by a spin on the red or blue wheel of fortune and which enhancements you get. You stand a chance to win up to 3 golden reels, wild reels and expanded wilds. With all choices made all you need is luck to see the reels flame up and a big amount of money to land on your balance.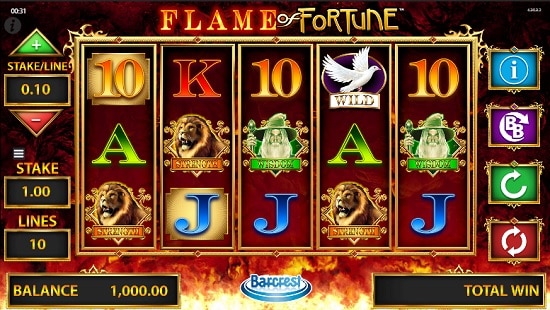 What We love
We love the way the game lures you into choosing your steps wisely, starting with the bet size, collect or gamble option once the Fortune Drop ends and spinning the red or blue wheel of fortune to win the best possible enhancements. This makes Flame of Fortune a game of mind and luck, adding even more satisfaction to a big win on the reels.
What we Do not Like
We can say that we don't like the looks of the game on a visual level, but then again not all of us are pretty looking so who are we to judge.
Worth Playing?
Most definitely. Flame of Fortune is a fun and demanding game to play, both in balance and mind, but with the right combination of choices it can reward very big wins, making the whole effort worthwhile. Another great game by Barcrest, that we can warmly recommend.
>> Play This Slot Now & With $/£/€ 200 Bonus +10 Free Spins <<