Singing and spinning with Karaoke Party!
Microgaming does it again. Only a few days after one new video slot release was announced, we already got word that another new video slot game called Karaoke Party, is set to be released later in August. It's just incredible to see so many new video slot games announced to be released or released in such a short period.
We don't know how the designers came up with the game theme, but we don't recall seeing another slot with a similar theme. We were eager to check out the promo video, which Microgaming posted on their YouTube channel, but it wasn't of any great help.
We don't know whether the slot is still in construction or Microgaming is keeping it a secret, but the 6 seconds promo video, didn't reveal any crucial information. Except for a karaoke singer and best wishes to have a good time, the teaser video didn't even give a hint at what to expect.
After some thorough research we had enough to know what to expect. It seems that Microgaming decided to go with an oldie 9 pay line design and the standard 5 reels and 3 rows.  With bets ranging from $0.09 up to $45 per spin, Karaoke Party should be good for play on all bankrolls, high or low.
We can't say that we were surprised to see the 3,333 x total bet maximum potential payout, since this is more or less a trademark for Microgaming slots. We were a bit disappointed to see that Karaoke Party only offers one classic free spins bonus, but even so it seems like a great slot game to play.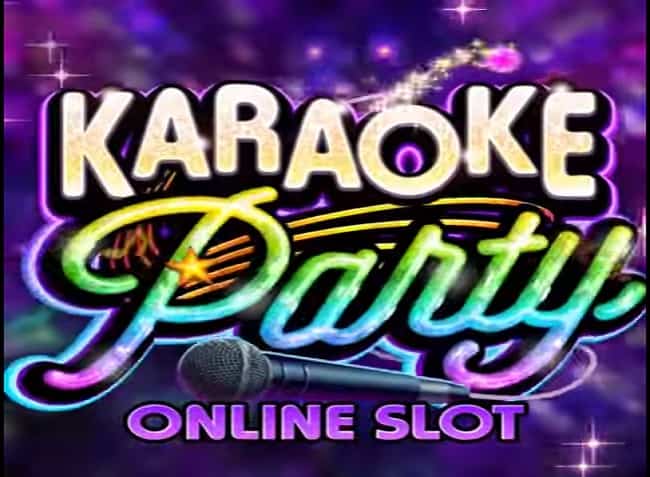 What We love
No matter what anyone says we love the classic oldie 9 liner design. Sure the entire game seems simple and ordinary, but 9 liner video slot games have a special game play and can be very profitable.
The main advantage is that you play on a much bigger number of coins per bet line on these games, than you would on any other modern slot with a big number of pay lines or ways to win.
We also like the Free Spins bonus, which is another classic feature. A total of 15 free spins are awarded, with a chance for one re-trigger and a x3 win multiplier, when 3 or more scatters land on the reels.
This is a decent feature, but we also love the fact that the Wild symbol doubles a win when substituting, including the wins that happen during the free spin.
What we Do not Like
We can't say that singing is one of our strong sides, especially karaoke singing in front of a crowd of strangers, so we'll have to pass on the whole karaoke theme used.
Worth Playing?
Say what you want but the 9 liner video slot games from Microgaming are well worth playing. Karaoke Party may not seem like much, but the 3,333 x total bet maximum payout suggests that the symbols have a decent payout attached. We can't wait for the game to go live across the Microgaming network and try it out for real play.
>> Play This Slot Now & With $/£/€ 200 Bonus +10 Free Spins <<