Silent Movie, a nostalgic trip to the past!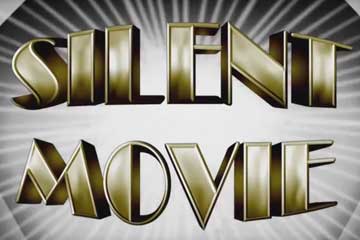 Before the time of advanced technologies people were still watching movies and enjoying theatrical art, they just did it using silent black and white movies. Something that was so important back then is almost left as an antique thing nowadays.
That is why it is so refreshing to see this theme incorporated into a slot game design. Who else if not IGT decided to make a black and white slot with piano and orchestra sounds in the background and bring 4 silent movies to life.
From the very first glance it is visible that IGT has put a lot of thought and effort to make this game truly feel like from an era ago. Many providers could fail with delivering black and white design but the innovative IGT has made it look sophisticated and easy for the eyes, which is important if a player is having a long session with the game.
Technically this game has 5 reels and 30 paylines and players bets can vary from 0.30$ to 90$ for a spin. There are regular bonus symbols and movie bonus symbols and player needs to get 2 regular ones combined with one of the movie symbols and then the corresponding game is played.
The games have different introductions but they all are free spins, just different amounts, and every bonus game has some extra feature, which includes multipliers and free spin amounts. All in all, the bonuses are quite generous.
What We love
We love everything about this game! Starting with the visual aspects and ending with bonus features. We really like that there is such a diversity in the bonuses so one can never get bored with them, cause the different bonuses keep you entertained.
We also really like the small details this game has, even the sounds are really interesting as they sound like an actual music from a play, which makes us feel sophisticated.
And last but not least we like that there are bonuses where you can get like 15 free spins with extra wilds or like 10 free spins 5x multiplied, all of them are generous features and we think it's really possible to walk away with a big win.
What we Do not Like
Usually, it is easy to find something to dislike whether it is lack of features, low amount of free spins, no multipliers, not pleasant graphics, you name it.
But with Silent Movie we can't name anything, as it is the complete opposite of what we just said. There are many features, good payouts, aesthetically pleasant design and great amounts of free spins.
Worth Playing?
We do think this game is worth playing for various reasons. Those who like pretty design will be drawn to this game, those who like variety in bonus features also will find that in this game.
We can't think of any other game that gives so real last century feeling with the overall appearance than Silent Movie. Besides, with wild symbols and so many bonus features players have really good winning possibilities and at the end of the day, that is what we're looking for in a good online game, and this one has lots to offer.
>> Play This Slot Now & With $/£/€ 200 Bonus +10 Free Spins <<