Jackpot Awaits at the End of Rainbow with Rainbow Jackpots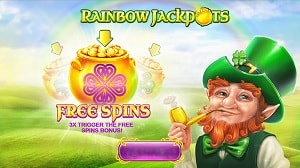 Industry's newbies Red Tiger have treated us with their own version of an Irish-themed game as they bravely test their luck with a game that has a serious competition to beat these days.
It has become a trend once more with more and more developers returning for Leprechauns, Rainbows, Pot of Golds and Four Leaf Clovers.
The subject is a current trend an there is not much we can do but jump the bandwagon and try to get the best of it along the way.
What We Love
From the top it is fair to say that Red Tiger are off to a good start with their clean, neat and modern-looking graphics. Bright colours, a golden game of sort holding the reels and a beautiful scenery that is visible in the back represent a perfect setting for an Irish game.
The fitting soundtrack is there to complement the entire experience, while the Leprechaun and his pipe are tasked with adding a cherry on top of this enticing game.
There is more to it than just visuals though, as Rainbow Jackpots truly is an eventful game. Red Tiger has fitted it with plenty of enticing bonus features – three in total, which can all be enhanced thanks to the Lucky Leprechaun, who blows his pipe to make them even more rewarding.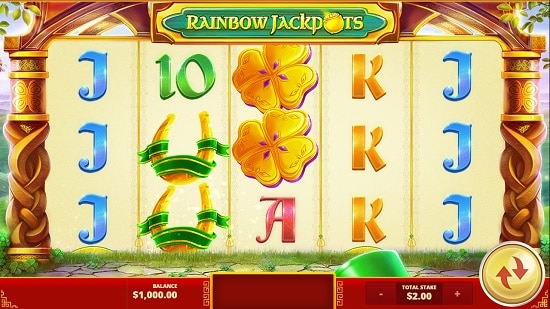 Free Spins feature – everyone's favourite – is available at up to 100 free games, which is great to hear, while the Beer Bonus is really something else.
You will be prompted to pick one mug to check out the value of the cash prize you get. Knowing that you can grab up to 1000x your stake, you will see why not only male population will love this beverage feature.
Ultimately, the game offers a chance to swap symbols and even better chances of landing a winning combination.
What We Do Not Like
Perhaps it is just us, but we got a bit fed up on those Irish themes. We beg our Irish friends not to take this the wrong way, but it seems everybody wants to have their say on the theme these days which is slowly becoming tiring.
From our experience with this game, we must say that it is fairly difficult on wins and bonus rounds in particular.
You will be made to work hard to get a winning combination that will make your efforts worthwhile. Bonus feature are even harder to achieve, but perhaps some of you will have better luck.
And ultimately, we must say that this game can be pretty expensive.
In all fairness, it boasts a wide range of possible bets, going from as low as $0.20, but knowing that you will need to fork out $500 to spin for the maximum winning potential, it is also fair to say that not many people will dare to raise the bar to the maximum.
Worth Playing
We haven't been that impressed, but put it on our recently increased intolerance towards the Irish themed games. If you are looking to get an objective assessment – and we know you are – Rainbow Jackpots is a visually appealing game, with features that can add great value to your winning potential.
You can win big with this brand new game that is available through all platforms, which is also great to hear.
>> Play This Slot Now & With $/£/€ 200 Bonus +10 Free Spins <<