IGT loosens their wagering range with Dragon's Temple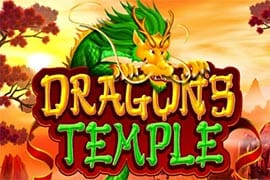 Sometimes it can be an absolute nightmare trying to play an IGT slot on the lowest stakes possible. The online casino software providers certainly have a way of making you ramp up your bets with their inflexible wagering range. That was, until now.
With their new Dragon's Temple slot, IGT goes quite the distance to ensuring that players are able to easily able to wager the kinds of funds they want, when they want.
In most other areas, though, Dragon's Temple is a pretty standard, run-of-the-mill, Far Eastern themed video slot, and one which wouldn't really stand out from a crowd that includes over 100 other similarly themed titles.
When you have a slot machine game that both does the business, and flunks it in the online casino world, how do you judge it? We'll start by looking at the things we do like about it.
What we love
The list of things we like about Dragon's Temple won't be too long. It is not that it is a bad slot, it is just that it needs to impress and there aren't too many features which are new and juicy in this release.
IGT's Dragon's Temple slot machine game does allow you to choose to wager on 10, 20, 30, 40 or 50 paylines in total, which is pretty nifty as it cuts down the wager size. Without this, you'd be wagering at least $0.50 per spin.
Players can also enjoy big wins with wilds in this slot. The maximum prize can be won either with wild symbols or title logo icons. This effectively gives you two very different icons to bag the non-progressive jackpot with, and wilds appear stacked and extended on all reels, so that helps, too.
What we do not like
There's more to be said about the non-progressive jackpot in Dragon's Temple, though, and it isn't good. The top prize in this IGT developed slot is actually worth just 20x your total stake.
That is shockingly bad, even for IGT. On the one hand, then, IGT have unlocked their strict wagering range, only to take away with a decent cash prize with the other. We can see what they have done, and we don't like it.
Another area for criticism in this slot is the graphics department. They are shoddy, and predictable. There are no pixelated graphics or anything as bad as that with this slot, but they don't stand out in a crowd, especially when many other developers are breaking new ground with digital rendering, and 3D images in their games.
Worth playing?
The way that IGT have approached this slot is admirable (given their history), but if they are not careful they will be left behind by the opposition. They may have loosed up their wagering setup, but other developers did that years ago.
Their graphics are behind their opponents, the theme has been done to death, and their non-progressive prize doesn't cut it. All in all, if we're being honest, this doesn't point to Dragon's Temple being too big a leap forward for IGT.
>> Play This Slot Now & With $/£/€ 200 Bonus +10 Free Spins <<