Halloween Fortune II fails to scare the pants off its predecessor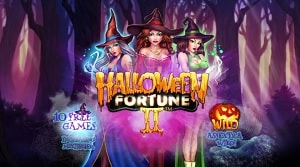 Admittedly, the title of this news brief might actually make it sound that Halloween Fortune II is not a very good slot. Let me reassure you, though, that isn't the case at all.
Halloween Fortune II is a terrific slot machine to play, and it will easily be the king of this year's Halloween themed slot machine games. However, it isn't as thrilling or as entertaining as the original Halloween Fortune slot game.
As you read on, you will discover just why – in our opinion – the predecessor still outranks the master. This doesn't mean to say that you shouldn't give Halloween Fortune II a run for it's money – you should, especially if you loved the original. It just means to say that this sequel could have (and probably should have) been better.
What we love
Players who have tried their hand at the original game will love the 5-reel, 25-line set up offered in this game.
The slot allows you to wager anything from as little as $0.25 per spin, up to $250 per spin which is cheap for any Halloween themed slot, especially one which offers you more than decent rewards in return. If you remember, the original slot only had 20 lines to offer you.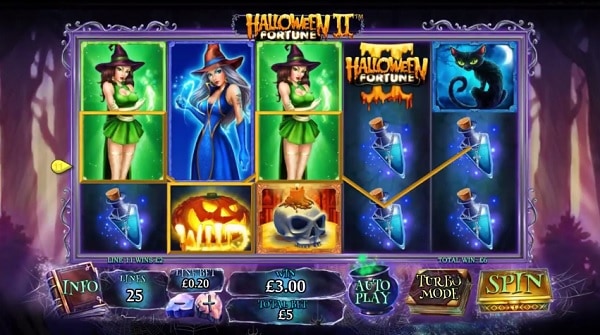 The free spins bonus round in this slot also coughs up increasing multipliers, and frozen wilds for you to enjoy. This makes its free spins bonus round considerably more enjoyable than that which appeared in the first video slot.
What we do not like
Playtech has dropped the Witches' Brew Bonus, and that really irks us. The Witches' Brew bonus was what made the original Halloween Fortune slot so entertaining. In it, you could pick a witch and mix potions to bag instant win cash prizes and multipliers. Taking it away seems to devalue the sequel a bit.
You will note that the non-progressive prize has also dipped from 10,000 coins to 3,000 coins. There is no clear reason given for this, but rest assured players will not be overly impressed with the drop in coinage.
Our guess is that Playtech thought they could decrease the prize because you have more paylines to play with. Unfortunately, you are paying $0.05 more per spin for those lines, and the absence of the Witches' Brew Bonus doesn't really add up.
Worth playing?
Absolutely. Again, it might not sound like it, but we really did enjoy Halloween Fortune II – at least when it is compared against virtually every other Halloween themed slot. When you compare it against its predecessor, though, it cannot triumph.
There is more to win, more thematic graphics and more excitement in the original. If you are going to play a Halloween themed slot this October, play Halloween Fortune II; you know, unless you can get your hands on the simply titled Halloween Fortune original.
>> Play This Slot Now & With $/£/€ 200 Bonus +10 Free Spins <<