A giant slot, with dino-sized features and prizes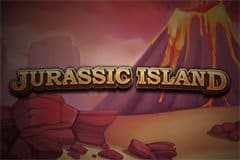 If you loved the Jurassic Park slot, don't expect to find Ash Gaming's new Jurassic Island slot to be a replica. It isn't. Ash Gaming and Playtech have tried to take the dinosaur theme in a new direction with their Jurassic Island slot.
Although this newly released slot doesn't quite have the graphical prowess of Microgaming's major motion picture themed slot, this slot does have features which can certainly give the Jurassic Park slot a run for its money.
With a wagering range stemming from $0.25 up to $125 per spin, and 25 non-adjustable paylines present on the reels; everything seems rather predictable and basic in this slot. Then you get to the free spins feature, and you realise that as far as Ash Gaming slots go, this one is rather epic.
What we love
As we've said, graphically and from a wagering perspective, everything about the Jurassic Island slot is simplistic and basic. However, as soon as you start to trigger the bonus features in this game, you will see that there is quite a lot on offer.
There are expanding wilds on three of the five reels in this game, and those symbols also account for the best paying icons in the game – meaning you could win vast sums of cash, up to 1,000x your total bet in all. The slot also contains 4 bonus features.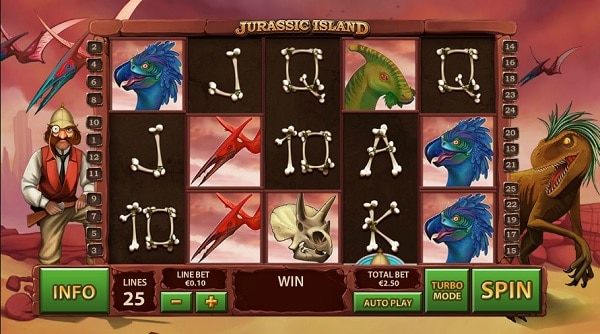 The first of these is a simple point-and-click, instant win game. The other three are free spin features, and they can offer you anything from 15 to 40 free spins, with multipliers, high-paying symbols, or expanding wilds on all 5 reels. Each bonus round has its own variance, so make your choices wisely.
What we do not like
Given that each bonus round has such a different variance, you will probably need to play this slot for free for quite a while before you can discover just which of the three free spin features is more your cup of tea. This isn't as bad as it sounds, though.
With the wagering range being what it is, and the variance of the bonuses being adjustable (by choosing a different feature over another), there is certainly something for everybody in the Jurassic Island video slot.
Worth playing?
It really depends what you're looking for. If you are hoping that this will be a dinosaur slot which can take on Jurassic Park visually, you'll be a bit disappointed. Similarly, if you are hoping for a slot which allows you total customisability with your wagers, again you're in for a bad time.
However, if you want a slot that can really give Jurassic Park a run for its money in the special features department, Jurassic Island could be well worth a look.
Although it doesn't look as flash as Microgaming's Jurassic Park slot, and it certainly doesn't have the popularity level (due to Jurassic Park being a major franchise prior to becoming a slot), there is something admirable and very playable about Jurassic Island.
>> Play This Slot Now & With $/£/€ 200 Bonus +10 Free Spins <<