Genesis offers up a new slot which delivers on what it promises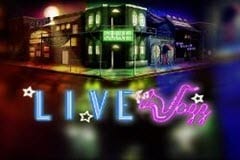 Genesis Gaming has decided to tread down the jazz bar theme with their latest slot this month.
It is a tricky theme to master, and although there have been a number of jazz themed slots released by various developers, few of them have really captured the essence of a smoky old jazz bar quite like Genesis Gaming's latest offering, Live Jazz.
Played over 5 reels and 5 paylines, it initially appears as though there isn't a whole lot of action to be had in Live Jazz. We've seen plenty of 5 payline slots and they are usually drab and cheerless. That isn't the case with Genesis Gaming's slot, though.
There are good free spin bonuses, plenty of decent wins, and wagers aren't too bad either. Don't expect the slot to be mobile friendly, though. They have even made it available to players based in the USA, but making it a mobile friendly game isn't really Genesis' cup of tea.
What we love
There's more than enough to like about the Live Jazz slot. For a kick-off, it contains a wide range of symbols which are decent paying. The wild symbol is capable of doubling the value of your winnings, and with that symbol alone you can win as much as 200x your total bet.
Even the scatters offer up to 75x your total bet, so the special symbols are definitely worth bagging, even if they don't immediately trigger features for you.
Players have a little mini-bonus before the proper bonus in this slot. To start off with, they can select from a number of locations and instruments to determine how their free spins bonus will be set up.
Your options include between 5 and 25 free games, and between 2 and 5 extra wild symbols to appear on the reels during the bonus. There are no complaints with this setup whatsoever.
What we do not like
Truth be told, there are two aspects to this slot that we aren't fans of, though neither of them is a deal-breaker. The first is the unnecessary inclusion of a gamble feature. There is just no need to include such a feature in games, any more. So few players use it.
Secondly there is a no room for mobile users in this game as we have touched upon. If the slot was mobile friendly, a lot more users out there would be able to get to grips with this slot. Since it isn't, the number of potential players is cut down dramatically. That isn't us, though, so we can't complain too much about that.
Worth playing?
If you have a thing for jazz bar themed slots, this is the best one out there. The competition isn't that hard to beat (if we're being honest) since so few of them have really hit the mark, but that shouldn't be taken away from Genesis Gaming, who have delivered a more than decent slot with this title.
>> Play This Slot Now & With $/£/€ 200 Bonus +10 Free Spins <<