Where are the Features in The Link Slot by Gamevy?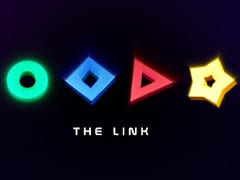 Gamevy tackles the idea of developing slot games and as a result we have before us The Link, a cosmic adventure that reminds a lot of recently released Thunderkick's Spectra.
Set in the depths of universe among the glowing star galaxies, brightly coloured 3D geometric shapes hover to the sounds of mysterious space music.
Featuring 3 reels and 8 paylines The Link is a slot that is set around a basic gameplay of noughts and crosses, where the purpose is to find three same symbols in a row to win up to 5000x your stake.
It looks and sounds interesting but The Link lacks one important thing. Read on and find out more.
What We Love
Gamevy is a start-up company made of enthusiastic professionals that aim to create high-quality game with serious winning potentials. Though they have started producing slots only recently, judging by The Link they are on the right track.
The imagery and the graphics quality are outstanding and we love it when developers go out of their way to polish even the simplest of themes. This is exactly what Gamevy did with The Link.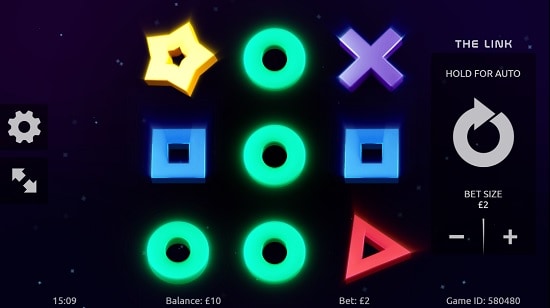 The simple geometric symbols (a diamond, square, circle, triangle) joined by the addition of a cross and a star twirl around on the screen in a splash of vibrant colours. When you find three of the same symbols in a row, be it horizontally, vertically or diagonally they will be crossed (same as in the noughts and crosses game) and pay some cash.
Another good thing about this slot is that these basic symbols can actually pay quite a lot. For example, if you manage to get the yellow star or the white diamond on 8 full paylines you will win 5000x your stake, while if you land blue square across 8 full paylines the game will return your bet 4000 times.
For three red triangles across all 8 paylines you get 3000x your stake, while the green circle and the purple cross will award the cash prize equal to 2000x, and 1000x your stake.
The yellow star is the Wild symbol so it can replace any symbol in the game and form three-of-a-kind combo.
What We Do Not Like
We were quite surprised to see that The Link features no bonus games. Apart from the standard Wild symbol feature which can be found in any slot game, there is nothing to spice things up and make you tingle with excitement while you are waiting for that top prize.
Even though the game symbols offer a quite generous maximum payout it is simply unacceptable not to have a special bonus game. We understand that the developers probably wanted to create as simple a slot as possible, but we would have expected to see at least a few free spins or a re-spin or two.
Honestly, this was a major disappointment.
Worth Playing?
Simple isn't always better, at least this is the impression we got after playing The Link slot. We are not saying that simple slots cannot be good. On the contrary there are many minimalistic slots out there that are both entertaining and lucrative.
Gamevy's new title appears to be so too, until you see that the only big moment in the game comes down to a typical Wild symbol. Without any additional game feature, The Link seems somewhat empty, despite the high-paying symbols.
>> Play This Slot Now & With $/£/€ 200 Bonus +10 Free Spins <<