BTG goes galactic in their bid for a winning format with Starquest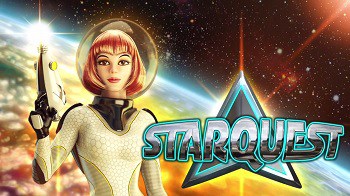 Starquest is the latest slot to be released from BTG (Big Time Gaming). Their latest slots have been a bit below par if we're being honest.
Perhaps BTG knows this, which is why they have developed something totally unlike them, out of the blue, and ultimately winning with their latest slot machine game.
The Starquest slot really is something else. How could it not be, with as many as 117,649 paylines appearing in this game?
We'll come back to that monstrous number of paylines in just a second. The game was released this week at top online casinos offering BTG software, and there aren't too many of them around.
However, one word gets out about what this slot offers, one would expect that a few more major casinos will try and pick this game up. It is worth a look after all. Here's why…
What we love
Okay, let's be honest. There are up to 117,649 paylines present in this slot, but the keywords are "up to". Not every spin is going to offer you that many, and the number of lines you get seems to be generated at random.
Even so, we didn't play a spin with any less than 1,000 paylines a pop, which is substantially more than you will get in most other slots, and at a rate of just $0.40 a spin, too. Nobody could knock BTG or Starquest for that.
The new slot also contains stacked wilds, stacked wild re-spins, multipliers worth up to 5x, and a handful of more than agreeable other bonuses. With wins as good as those which appear in this slot, how can anyone complain about the features?
What we do not like
There is one area where we can have a bit of a grumble: the theme. Personally, BTG has kind of flopped here. The theme is supposed to be about space exploration and adventure, but aside from the leading lady (who is, in fact, a wild symbol), there isn't too much about that.
The imagery is there, but it just doesn't come across as that type of slot, and on the theme alone it would struggle against other space themed slot machine games.
Fortunately, you don't have to judge this slot on its theme alone, and the majority of its awesome features by far outweigh its rather tepid theme. More players will be so enamoured with the features that they won't give two shakes about the theme of this slot.
Worth playing?
If you can work your way past the poorly executed theme (which let's face it, we all can), then Starquest is certainly worth a peek.
You may have a spot of difficulty in locating the slot at your chosen casino at first, but like we've said; once the word is out concerning just what this slot has to offer, the chances are that other major casinos will try and pick the game up.
>> Play This Slot Now & With $/£/€ 200 Bonus +10 Free Spins <<