Betsoft Gaming launches their best looking slot Birds!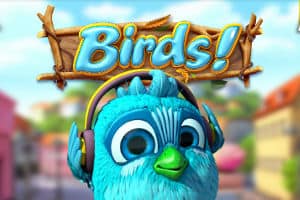 With the beginning of summer, we all tend to seek for more opportunities to go to the countryside to enjoy the warm touch of the sun, to be closer to the nature, as everything's bright, green and sunny. And with summer, more and more bird tweets can be heard in the mornings to celebrate the start of the day. Betsoft has taken their inspiration for Birds slot right from the nature.
How often do we see birds sitting on wires? Everyday? And now we have the opportunity to see that in the new slot game called Birds. It is a unique game from Betsoft, which offers a colorful theme with bird symbols, drop down feature after a winning combination and free spins round.
Everything about this game is really fascinating, even the way the reels spin,they don't spin the birds just fly away. Also, the winnings here aren't by pay lines, but by matching symbols. Whenever 3 or more matching symbols appear horizontally or vertically a win is formed.
Then they will fly away from the screen and you'll see you free spins meter filling. If you get at least 4 consecutive winnings, the free spins round is awarded, where the player can end up with a great amount of free spins.
What We love
There are many things to love about this slot and design is the first one that comes to mind. Colorful design can often look good at first but after playing for a while can cause pain to the eyes. Birds slot isn't the case as the colorful design is vibrant and aesthetically pleasant and because of it even long sessions with Birds slot will be delightful.
We love that this game is simplistic and that players can trigger free games easily, without some specific scatter symbols needed. Anytime you win in base game, every consecutive win gets you closer to the free spins bonus round and that's exactly what all players are so eagerly looking forward to.
The free spins are really worth it, as you get from 8 free spins to over 20 and then have more chances to retrigger them which is exciting. It's also great that this game fits for both- low rollers and highrollers, as the players can bet from only $0.50 to $125 per spin. For last- even if you're living in the city and the only sounds you hear are from cars, this slot will give you a feeling of a countryside and that works as a great relaxation.
What we Do not Like
There's not much to dislike about this game, however, given the fact that there is no multiplier in this game, nor in base game or free spins, winnings of 1000x bet could be really hard to achieve.
Worth Playing?
We think that this game is definitely worth trying and playing. It is one of Betsoft's best slots in terms of graphics and it looks really one of a kind. The visual aspects of this game are great, it is exciting, fun and gives good vibes.
The sounds are really nice as well and give an authentic nature feeling. And besides that, the game has decent winning potential with the free spins feature and wild symbols. Worth trying at least once with real money.
>> Play This Slot Now & With $/£/€ 200 Bonus +10 Free Spins <<