Genting Casino – Stoke Review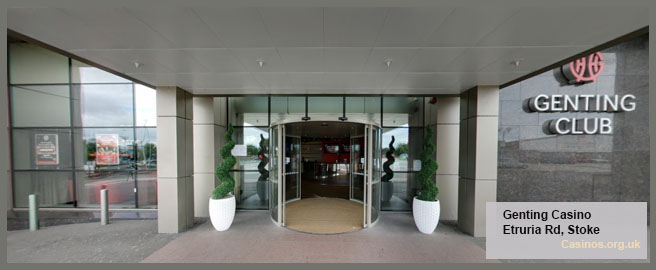 Genting Casino Stoke is a great option when town and offers a modern building with plenty of room of their table and electronic games. Genting Casino Stoke is part of the popular Genting Casino chain with branches throughout the UK. Visiting them you are guaranteed quality and good gaming experience. At this casino you will find all your regular gaming options, as well as a bar, restaurant, and venue for hire. They are open 24/7 so you can stop by at any time.
GENTING CASINO – STOKE GAMES
Genting Casino Stoke is one of the larger Genting Casinos and has a decently sized gaming hall filled with all sorts of games. Most popular UK table and electronic games can be found here including their famous IGT Fort Knox and Novomatic Power Link progressive jackpots. Enjoy their extensive collection of roulette, blackjack, poker, and baccarat table games, or play their electronic counterparts from one of the Genting e-table terminals.
CASINO GAMING OPTIONS:
American Roulette – 6 tables with a minimum bet of £1 and a maximum of £100
Blackjack – 4 tables with a minimum bet of £3 and a maximum of £500
Three Card Poker – 2 Tables with a minimum bet of £3 and a maximum of £100
Electronic 3 – 5 Multi-win Poker – 4 Machines with a minimum bet of £2 and a maximum of £200
Genting e-Tables

GENTING CASINO – STOKE DRESS CODE
Smart-casual attire is accepted at Genting Casino Stoke but they do require guests to refrain from dressing too casually. This doesn't mean you can't wear shorts and a t-shirt, but rather leave your favourite sports shirts or tracksuit at home.
FOOD & BEVERAGES
Genting Casino Stokes offers their Late Bar and Fahrenheit Grill for all your drinks and food needs. The Late Bar is open 24/7 along with the casino and comes fully stocked with beers, ciders, wine, and spirits. There are also bar snacks and light meals to be enjoyed, but if a restaurant is what you're after then look no further than the Fahreinheit Grill. Their unique restaurant is separate from the casino and offers a relaxing environment to enjoy a meal. They have a few menu options including a vegan option, dessert menu, and an impressive wine list.
SPECIAL EVENTS
Genting Casino Stoke is always hosting something. Whether it's a Christmas Party, a live sports viewing, or their daily Genting Nights, there's always something to enjoy. If you're new to this casino or casinos, in general, you should consider the Genting Nights package. You receive a welcome drink, a snack, and a tutorial for one of their various games. You'll also be able to use this opportunity to practice without the need to spend any money on chips. Once you've finished learning they'll even give you some free credit to play with.
There is a regular slot tournament that takes place every month at Genting Casino Stoke. 'Top of the slots' is its name and it features cash prizes for the top 3 contenders. Entry is free so what do you have to lose.
The special events don't stop there, head to the casino and enjoy their wide array of discounts, live entertainment, and sports viewings.
GENTING CASINO – STOKE MEMBERSHIP INFO
The Genting Membership is available at Genting Casino Stoke and offers exclusive access to their rewards cards and other members-only bonuses. Registration is free and very easy. All you need to do is register. Members can immediately enjoy access to discounts at the bars and restaurants and there are often Genting promotional events that are only available to members. Another small benefit is that you can skip the queue when accessing the casino.
ACCOMMODATION & TRANSPORTATION
Public transport or your own car, Genting Casino Stoke has plenty of transportation options. There is a bus stop just outside the casino opposite Sainsbury's and has level access with a dropped kerb for wheelchairs. They also have private parking which is free for customers, but there aren't many available so you might have to seek out public parking in the adjacent streets. It's in the northern suburbs of Stoke and is best accessed by driving on the A53 and then turning right onto Etruria Road – where the casino is located.
Stoke does have a few accommodation options but they are scattered throughout the area. There are only 2 hotels close to the casino:
Premier Inn Stoke on Trent is a 3-star hotel with rooms available from £99
Best Western Plus Stoke on Trent is a 4-star hotel with rooms available from £139
LOCAL ATTRACTIONS
Stoke has quite a lot of tourist attractions to keep you busy in-between your visits to the casino. Whether you prefer museums, visitor centres, and factory tours; or gardens, a monkey forest, and boat/train rides, Stoke has plenty of fun activities available all year round.
The most notable of these attractions are:
Trentham Estate
The Duson Museum
Central Forest Park
Burslem Park
Etruria Industrial Museum
NEARBY CASINOS
There are quite a few gaming options in Stoke and most of them are located in the same area as Genting Casino Stoke. Despite there being 5 casinos in the area, 4 of them are owned by the Admiral Casino chain. These casinos all offer basic gaming facilities with mainly slots machines. The next best choice after Genting Casino Stoke is the Grosvenor Casino Stoke. This casino is more modern and has its own on-site bar and dining. Grosvenor Casinos are well-know and offer a quality gaming experience similar to Genting Casinos, with their own membership and online casino also available.
GENTING ONLINE CASINO GAMES
Genting Bet is the new name for Genting Online Casino and can be found on their newly updated website. This easy-to-use online casino comes with a very modern appearance and is one of the most streamlined online casinos around. Your attention is immediately drawn to the three gaming tabs: casino, live casino, and sports. The casino tab offers all their table, card, and slot machines – including progressive jackpots and the sports tab is where you'll be able to participate in sports betting.
LIVE CASINO GAMES
The live casino games are a great way to enjoy a realistic gaming experience from home. They offer the same betting limits as their local casino counterparts, but, more importantly, they offer live UK dealers. These dealers are streamed from various locations throughout the UK and they are professional and ready to take your bet. Genting Bets also offers a unique live gaming experience in the form of their 'live from' games. These games are hosted directly from various Genting Casinos in the UK and offer a different feel to the traditional live casino game.
The most popular live casino games available are:
Roulette Live From Manchester
Genting Live Blackjack
Monopoly Live
Genting Live Games Lobby
Baccarat No Commission Live
CASINO RATING
Genting Casino, Stoke - Rating
Summary
Genting Casino Stoke makes sure that you have somewhere to enjoy quality casino gamings in Stoke. Although they have other casinos nearby, they are one of two major options and offer a nice variety of casino games, entertainment, and dining. This is one quality casino worth visiting the next time you're in town.
Pros
Extremely friendly and helpful staff
Good poker tournaments
Great atmosphere
Good services
Good food and drinks
Cons
Overcrowded sometimes, especially on weekends
BASIC INFORMATION
Casino Name: Genting Casino – Stoke
Location: Stoke, UK
Address: Etruria Rd, Stoke-on-Trent ST1 5NH, UK
Phone: +44 178 221 3499
Opening Hours: 11am – 6am
Table Games: Yes
Slots: Yes
Dress Code: Smart Casual
Genting Casino in Stoke Licensee: Genting Casinos UK Limited is licensed and regulated by the UK Gambling Commission (See licensee).
THE GENTING CASINO IN STOKE ON A MAP