Grosvenor Casino – Southend Review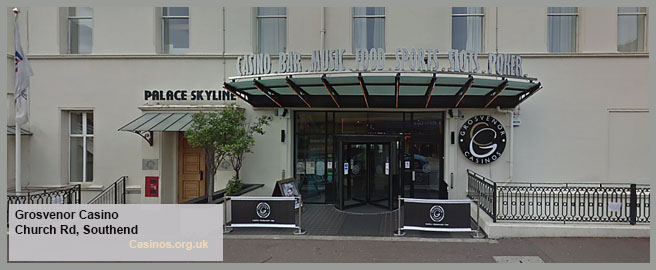 Grosvenor Casino Southend is one of the many Grosvenor Casinos located throughout the UK. These casinos all offer similar gaming experiences and they also have their own casino membership which is available for free. This casino is one of 4 gaming options in Southend making it an obvious choice for those visiting this holiday town. You won't only find games at this 24 hours casino, they also offer a bar and restaurant, as well as a live TV lounge.
GROSVENOR CASINO – SOUTHEND GAMES
Casino games at Grosvenor Casino Southend include all the favourite table and electronic gaming options found throughout the UK. Whether you prefer roulette, poker, or enjoy a good ol' slot machine, there is something for you at this premium gaming facility. Their collection of games are all located in their main gaming hall where the bar and TV lounge is located.
CASINO GAMING OPTIONS:
American Roulette
Poker
Baccarat

GROSVENOR CASINO – SOUTHEND DRESS CODE
Grosvenor Casino Southend accommodates casual gamers by accepting a smart-casual dress code – no need for formal attire and suits at this gaming establishment. However, you will still have to abide by their smart-casual dress codes which specifically mentions that no sleeveless shirts, no tracksuits, no sportswear, and no headwear may be worn in the casino.
FOOD & BEVERAGES
There are a restaurant and bar available at Grosvenor Casino Southend. The bar is a separate facility available on the gaming floor, while the restaurant is located in a separate area of the building. The bar has all the drinks – both alcoholic and non-alcoholic – that you would expect to find and the restaurant has a large menu including a children's menu and a selection of delicious desserts.
SPECIAL EVENTS
Grosvenor Casino Southend's main special events are their poker tournaments and cash games. These are available on most nights and there are always new events being uploaded on their website's 'promotions' page. If this is something that interests you then you should consider their September Rake Races, the Grosvenor Live Satellites, and the UCOP Universal Championship of Poker.
The Rake Races are cash games available every day in September with a grand prize of £15,000 available. The Grosvenor Live Satellites are live poker tournaments starting from as little as £0.25. Finally, the UCOP tournament has over 94 events, with one of them taking place at Grosvenor Casino South End. If you're a poker head then you could stand a chance of winning up to £1,000,000.
There are also a bunch of other everyday specials such as their progressive blackjack side bets, their live entertainment, and their free hot & soft drinks. If you're a fan of sport, make sure to check out their live sporting lounge by the bar which always features the latest sporting events from around the world – including football, boxing, and tennis.
GROSVENOR CASINO – SOUTHEND MEMBERSHIP INFO
The Grosvenor One membership is the name given to both their online and local casino membership. These memberships are linked and allow gamers to benefit from a single wallet that can be used for both their online and local gaming. If you're playing online, you can visit any local Grosvenor casino to deposit or withdraw funds. If you're playing in a local casino you can use your membership to earn reward points as well as membership-only discounts from the bar and restaurant. Considering this membership is free and can be done immediately upon your arrival at the casino, it's needless to say that this is a great choice for anyone visiting Grosvenor Casino Southend.
ACCOMMODATION & TRANSPORTATION
If you're driving from any major city in London you will need to take the only major road leading to Southend – the A127. Once on this road, you'll travel directly into the heart of Southend, from which you'll only need to travel for approximately 5-minutes before arriving at the casino on Church Road. If you'd prefer to fly you can land directly outside Southend at London Southend Airport. This Airport is 15-minutes away from the casino but has access to public transport, like taxis and the Southend Airport Busstop. If you take the bus you can travel directly to Southend Pier and just walk up the street to the casino.
Accommodation is plentiful in this resort town with options within walking distance from the casino. Most of the accommodation is located close to the Thames River and, therefore, close to the casino. The closest option is the Park Inn by Radisson Palace, a 3-star hotel located next to the casino. Alternatively, you can also visit the Hamiltons Boutique Hotel or The Hope Hotel.
LOCAL ATTRACTIONS
Southend, also known as Southend-on-Sea, is a famous town in the south-east of England approximately a 1-hour drive east of London. The city is a popular destination for holiday goers and those looking to relax with some sea air. In the 1800s the city became very popular and has grown into the holiday destination that it is today.
Grosvenor Casino Southend is on Church Road, less than 5-minutes away from the Southend Pier. Southend has many popular piers and delicious dining areas along the coast. Just next to the Southend Pier you'll find the museum dedicated to it as well as Adventure Island – a free-admission fun park with more than 40 rides and attractions from rollercoasters to ghost trains – a great place to bring the kids. The Southend Cliff Gardens, just next to Grosvenor Casino on Marine Parade Road, is a great attraction to visit for relaxing sea views and some Southend fish and chip classics.
Other popular attractions in this resort town include:
River Thames
Hadleigh Castle
Sealife Aventure
Thorpe Bay Beach
Chalkwell Beach
Bell Wharf Beach
Thames Estuary
NEARBY CASINOS
Grosvenor Casino Southend isn't the only gaming establishment in this resort town. There are 3 other casinos in the city, each offering similar gaming experiences. If you're looking for a similar casino chain experience, then Genting Casino Westcliff is an option for you. Located slightly further away than the other options, just outside the Southend Cliff Gardens, Genting Casino Westcliff is located on the wall of the Thames River with beautiful views. They also offer their Genting Membership, bar, and light dining menu.
The two other options are closer to Grosvenor Casino. Stardust Casino and Rendezvous Southend Casinos are two local options with plenty of gaming options between the two of them. Stardust is by far the smallest casino in the town, only offering slot machines, while Rendezvous Casino is similar to Grosvenor Casino and offers a selection of table games, electronic games, as well as live entertainment and dining.
Stardust Casino
Rendezvous Casino
GROSVENOR ONLINE CASINO GAMES
Grosvenor Casinos also offers an online casino on their main webpage. Whenever you look up Grosvenor Casino on the internet your first choice will take you to their page which is a combination of online casino and information about their local casinos.
The online games available are everything that you'd need to recreate a brick-and-mortar casino experience right down to live dealers which are hosted from various UK locations. The gaming categories on their online casino are divided into:
Live Casino
Slots & Games
Jackpots
Table & Card
Poker
Sport
LIVE CASINO GAMES
The live casino games are a great place to start your online gaming experience because they are very similar to local casino games. These games are all played with live UK dealers and they all feature the same betting limits that you'd find in any Grosvenor Casino. The following live casino games are some of the most popular options that can be enjoyed:
Monopoly Live
Blaze Roulette
Victoria Roulette
Perfect Blackjack
Grosvenor Roulette
Lightning Roulette
Speed Baccarat
CASINO RATING
Grosvenor Casino, Southend - Rating
Summary
Located in the amazing holiday destination of Southend-on-Sea, Grosvenor Casino Southend is a great option for those visiting the town. There are only a few casinos available, so visit them for a quality gaming experience with a collection of both table and electronic games. Their central location also ensures you have access to all the nearby casinos, accommodation, and tourist attractions.
Pros
Very friendly and helpful staff
Nice atmosphere
Good location
Cons
Too quiet on some days
Definitely understaffed on a busy days
BASIC INFORMATION
Casino Name: Grosvenor Casino – Southend
Location: Southend, UK
Address: Church Rd, Southend-on-Sea SS1 2AL, UK
Phone: +44 1702 411610
Opening Hours: 24 / 7
Table Games: Yes
Slots: Yes
Dress Code: Smart Casual
Grosvenor Casino Southend Licensee: Grosvenor Casinos Limited is licensed and regulated by the UK Gambling Commission (See licensee).
THE GROSVENOR CASINO IN SOUTHEND ON A MAP