Genting Casino – Southampton Review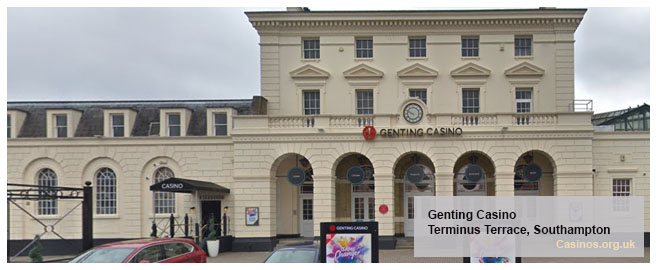 Genting Casino Southampton formerly known as Mint Casino  is a moderately sized casino in the coastal city of Southhampton. Located in Ocean Village, this casino is tucked in between the Itchen and Test Rivers and is a great place to visit for gaming with their large selection of table and electronic games.
The casino never closes and their bar is available to serve you food and drink whenever you need it. Genting Casinos are a popular UK casino chain and this is the only one available in Southampton.
GENTING CASINO – SOUTHAMPTON GAMES
Although Genting Casino Southampton isn't the biggest casino in the city, there are still plenty of table gaming and electronic gaming options to choose from. If you're interested in big jackpots then the IGT Fort Knox and Novomatic Power link progressive jackpots are a good place to start, with jackpots currently reaching over £20,000.
There are also a few Genting e-Table posts which allow you to participate in electronic games while at Genting Casino Southampton. This is a great choice for someone who enjoys playing different electronic games from a single gaming terminal. These terminals are very comfortable with padded armchairs and ultra high definition display. Not only can you play regular electronic games like roulette, blackjack, and baccarat, but you can also use these terminals to access the Genting Live Casino games that you'd find on their online casino.
CASINO GAMING OPTIONS:
American Roulette – 4 Tables [£1 – £200]
Blackjack – 3 Tables [£3 – £2000]
Three Card Poker [£3 – £100]
Genting e-Tables – 18 Posts [£0.10 – £100]
Progressive Jackpots

If the gaming limits are not up to your standard, then you are welcome to speak to management and arrange higher limits. This is a service they offer but they may require you to provide a valid proof of identity for these higher limit games – if you haven't already.
GENTING CASINO – SOUTHAMPTON DRESS CODE
Genting Casino Southampton has a smart casual dress code that does not require you to dress up for your night out. As long as you're dressed smart-casual you won't have any problems, but there are a few prohibited items that potential guests should take note of. Under no circumstances will guests wearing their work clothes, tracksuits, sportswear, or offensive clothing be allowed into the casino.
FOOD & BEVERAGES
Genting Casino Southhampton has its own Late Bar that can be enjoyed 24/7. The bar is fully stocked and they regularly have drink specials including their Friday £20 for a bottle of Bottega Prosseco. Remember to try one of the bars signature cocktails or sample one of their many different gins.
In addition to their drinks, their all-day menu is the perfect way to get something to eat at the casino. You'll only be able to find light meals and snacks, but that should be enough to keep you going until mealtime.
SPECIAL EVENTS
Genting Casino Southampton doesn't offer many special events other than their Genting Nights. Genting Nights allows gamers to participate in a gaming tutorial of their choosing. Learn how to play in a non-competitive environment and when you're ready the casino will give you with some free chips to use. These packages also come with a welcome drink and an optional meal from the bar.
GENTING CASINO – SOUTHAMPTON MEMBERSHIP INFO
Joining Genting Casino Southampton's membership package is a good choice for regular and non-regular gamers. The membership is free and registration can be done online, so no matter how often you plan on visiting the casino, it's well worth your while to just sign-up before coming. Once you've signed up online you are ready to head to the local casino and finish your membership process. If you're under the age of 21 you will be required to show a valid proof of ID, as well as if your game with more than £1,500.
The membership offers a reward points system which can be used on all electronic games as well as various members-only discounts and exclusive event access. Their membership page shows the latest members-only events and information.
ACCOMMODATION & TRANSPORTATION
Genting Casino Southampton has a large parking lot available in from of the casino access. This parking is available to the general public but if it is full you can find additional parking at the back of the building. The nearest bus stop is quite a few minutes away on WestQuay and will require you to take a taxi.
The accommodation available in Southampton is spread out in the city centre with 5 options located less than 5-minutes drive away from the casino. The closest option is the Room2 Southampton which is a 4-star hotel offering complimentary breakfast. A little further away you'll find the Hotel Mercure Southampton and The Star Hotel Southampton. All these hotels are similarly priced and are located close to the casino and bus stops.
LOCAL ATTRACTIONS
Southampton might not be the number 1 coastal location in the UK, but this bustling coastal town is still popular among tourists. The casino's central location means accessing both sides of the river is easy and you'll also have access to boat rides along the river.
If you prefer art galleries or theatre you definitely need to visit the renowned Southampton City Art Gallery, the John Hansard Gallery, and the Mayflower Theatre. There's also plenty of cultural and historical attractions including a 1:25 scale replica of the titanic with history of how the people of Southampton participated in its construction. Finally, if you're a football fan make sure to visit St Mary's Stadium, home to the Southampton Premier League team.
Southampton Gardens & Parks
Southampton Spas
Solent Sky Museum
NEARBY CASINOS
Southampton has 6 casinos to choose from including this Genting Casino. This is the only Genting chain casino in the city but you will find other prominent UK-based casino chains, including Admiral Casinos and Grosvenor Casinos. Both of these chains are closed to the casino, with Grosvenor Casino Southampton and Admiral Casino Woolston being the closest options. These casinos all offer a combination of a few table games and majority electronic games.
Other casinos in the city are:
Admiral Casino Southampton
Admiral Casino Shirley
Merkur Cashino
GENTING ONLINE CASINO GAMES
Genting has a separate online casino that can be registered on and played by Genting Members and non-members alike. The registration process for the online casino is separate to the membership process, so if you'd like to play online you'll have to register again. As soon as you complete your Genting online registration you will receive a 100% match welcome bonus of up to £30.
Their online casino has recently been remodelled and now features three main gaming category tabs at the top of the screen: 'Casino', 'Live Casino', 'Sports'. The sports section is where you'll find all the sportsbook options, while the casino section is where you'll find all the table and slot games available. Finally, the live casino section is where you'll be able to experience the best online gaming possible played with live UK dealers.
LIVE CASINO GAMES
There are plenty of live casino games and they are all hosted by live UK dealers. There are different types of live games available, those hosted from private locations and those hosted from local Genting Casinos. The local Genting Casino live games are very popular because you're transported right into the centre of the action.
The following are some of the live casino games that can be enjoyed:
Live Roulette
Live Blackjack
Live Baccarat
Live Monopoly
Live Deal or No Deal
CASINO RATING
Genting Casino, Southampton - Rating
Summary
This is a great casino to visit while in Southampton. You're able to choose between table games and electronic games and their membership package ensures that you always walk away from a winner. It's a moderately sized casino with friendly staff, the perfect place to relax and enjoy a few casino games.
Pros
Friendly and helpful staff
Good atmosphere
Free soft drinks while gambling
Cons
Small casino
Very crowded at some days
BASIC INFORMATION
Casino Name: Genting Casino – Southampton
Location: Southampton, UK
Address: Terminus House, Terminus Terrace, Southampton SO14 3FE, UK
Phone: +44 238 022 1021
Opening Hours: 24 / 7
Table Games: Yes
Slots: Yes
Dress Code: Smart Casual
Genting Casino Licensee:Genting Casinos UK Limited is licensed and regulated by the UK Gambling Commission (See licensee).
THE GENTING CASINO IN SOUTHAMPTON ON A MAP