Genting Casino Liverpool Renshaw Street Review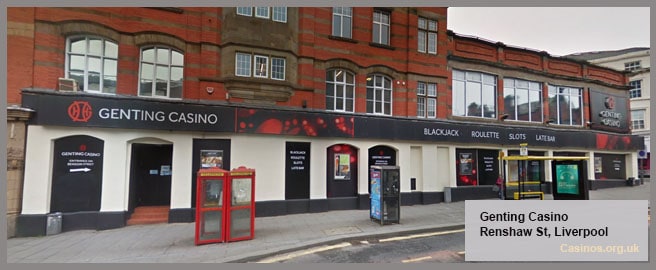 You have a few options when it comes to casinos in Liverpool but one that is sometimes overlooked in favour of the other Genting Casino on Queen Square is this Genting Casino on Renshaw Street.
Being located so close to each other and with its larger brother offering a poker room and restaurant, it is easy to see why many opt to go there instead. That said, this casino from Genting is still worth a look, especially if the only thing on your mind is tables games and slots.
Open 24 hours all week, you will be able to enjoy table classics like Roulette, Blackjack, Baccarat and Three Card poker as well as a number of slot machines and roulette machines.
GENTING CASINO – LIVERPOOL RENSHAW STREET GAMES
Fairly small in size, this Genting Casino does have limitations on the number of tables and games that it can provide. There are just 11 table games, 16 roulette terminals and a small selection of slots for you to enjoy.
CASINO GAMING OPTIONS:
Unfortunately, if you are a fan of poker, you will be disappointed as there is no dedicated poker room at the Genting Casino on Renshaw Street. This means no cash games or tournaments will be available to be played.

The Genting Casino on Queen Square and the Grosvenor Casino Leo Liverpool both have poker rooms so they would be the better alternative if it is poker action that you are seeking.
GENTING CASINO – LIVERPOOL RENSHAW STREET DRESS CODE
As long as you dress relatively smartly and are over the age of 18-years old, you will not encounter any difficulties from entering the Genting Casino. There is a smart casual dress code and this basically means that no sportswear such as caps and tracksuits will be allowed. Jeans, trainers and T-shirts are fine as long as they are clean and smart looking.
FOOD & BEVERAGES
While there is a Chinese restaurant at this Genting Casino, it is only open from 10 pm until 1.45 am each night. This does not leave you with much of a window but we can assure you that their range of Chinese dishes is a delight should you get the chance to taste them.
Your other options are to enjoy the Graze and Play menu at the casino which offers light meals and snacks from the bar. This is not ideal if dining out was a part of your evening's plans but you will certainly find plenty of restaurants locally that you could nip out too.
That Late Bar is also where you will find plenty of refreshment options whether alcoholic or not. You can also catch any live sporting events on the many televisions in this bar and simply hang and chat with your friends.
SPECIAL EVENTS
We suggest following the Genting Casino Renshaw Street venue on Facebook or Twitter to stay in the loop when it comes to special events. Live music and entertainment have been hosted here in the bar before and it will no doubt happen again. The Genting website is another good place to keep up to date with the goings-on at all of their casinos.
GENTING CASINO – LIVERPOOL RENSHAW STREET MEMBERSHIP INFO
Becoming a member of the Genting brand will bring you plenty of benefits not least the reward points you will collect whenever you play in one of their casinos. On top of that, you will be invited to enjoy member-only bonuses and promotions.
Of course, membership is not something that you mare required to have to enter their casinos. As long as you are over the age of 18-years old and can prove it on request, you can enter their premises as a guest for the night.
If you do decide that membership is something that you would be interested in, all you need to do is bring your ID to the casino and they will have your membership sorted for you.
ACCOMMODATION & TRANSPORTATION
If you are planning on driving to the casino, you should be aware that while there is a car park for the casino, it can only fit 16 cars. You might need to find parking elsewhere if it is a busy night at the casino but you will find plenty of public car parks fairly closeby.
Due to the Genting Casino on Renshaw Street being right in the heart of Liverpool, making your way there should not prove difficult at all. Both the Liverpool Lime Street and Liverpool Central train stations are within walking distance of the Renshaw Street Genting Casino. And all major bus routes will stop at the many buses stops close to the casino.
The Nadler Hotel, Adelphi Hotel, Aachen Hotel and the Tudor Close represent the closest hotels to the casino but there are plenty more of them to consider a little further out.
LOCAL ATTRACTIONS
Liverpool is one of the most prominent cities in the UK and as such, has so much on offer if you wanted to explore some of the attractions available to you. Famed for producing music superstars such as The Beatles, one of footballs most iconic stadiums and for its history as a maritime city, it is little wonder that it is a popular destination for tourists.
As for some other attractions in the city, you might want to check out the following:
The Beatles Story
Cavern Club
Royal Albert Dock
Liverpool Cathedral
Merseyside Maritime Museum
NEARBY CASINOS
What will be quite surprising to many of you is that there are only really three casinos in Liverpool. This is quite a small number compared to some other large cities in the UK but it will still be more than enough to keep most of you entertained.
As well as this Genting Casino on Renshaw Street, you also have the Genting Casino just up the road on the Queen Square. Furthermore, Grosvenor Casino Leo is another option for you to consider. Technically, you can also go and gamble at a couple of tables on the Boudicca cruise ship from the Fred Olsen Cruise Lines but that will not be possible for most of you.
This is the smaller of the two Genting Casinos and as mentioned previously, does not have a dedicated restaurant or poker room. The Queen Square venue has both of those and for that reason, would be a better option if you wanted a meal as part of your experience or you planned to play some poker.
GENTING ONLINE CASINO GAMES
Genting also has an online casino that players can use for when they are not in a position to make their way down to one of the Genting Casinos in the city. Regulated by the UK Gambling Commission and highly trusted with players due to the Genting name, this online casino has become one of the most popular in the UK.
It has more than 300 games which include all classic tables games and a variety of different online slots such as classic, progressive and video slots. Furthermore, you will be able to back your favourite teams using the incorporated sportsbook.
Other reasons why the Genting Online Casino is so popular is the many bonuses and promotions that give players even more value for their money, a good level of customer service and quick withdrawals.
Some of the slots you can enjoy at the online casino include:
Vikings go to Hell
Wolf Hunters
Book of Ra
Double Dragons
Jungle Books
LIVE DEALER GAMES AT GENTING ONLINE
Another type of game at the Genting online casino that will probably appeal to you if you love classic table games, is the live dealer games on offer. These differ from your standard software-based casino games at the casino as you will literally be playing at an actual table.
That table will be in another casino or a studio with a real-life dealer/croupier who will run the game as you and other players place your bets. The action is streamed to your PC or mobile device so that you always see the results as they happen.
Genting casino has a number of these live dealer games including the following:
Exclusive Roulette Live from Manchester
Side Bet City
Speed Roulette
Super Sic Bo
Live Casino Dragon Tiger
CASINO RATING
Genting Casino Renshaw Street, Liverpool - Rating
Summary
If you wanted a more all-around night out you might want to consider the Genting Casino on Queen Square or the Grosvenor Casino Leo. That is simply because they each have a larger gaming space, dedicated poker rooms and a restaurant.
On the other hand, if you wanted to enjoy an intense session of gambling in a casino that will not be as full as the other two and are not worried about food, this could be the ideal solution for you. It is a good looking casino that makes the best of the space that it has. Friendly staff and a good atmosphere are a couple of other reasons why we rate the Genting Casino on Renshaw Street.
Pros
Great Chinese restaurant
Very friendly and helpful staff
Great service
Great atmosphere
Cons
The restaurant doesn't serve food every day and starts late on some days
BASIC INFORMATION
Casino Name: Genting Casino – Liverpool Renshaw Street
Location: Liverpool, UK
Address: 45-55 Renshaw St, Liverpool L1 2SF, UK
Phone: +44 151 708 8866
Opening Hours: 24 / 7
Table Games: Yes
Slots: Yes
Dress Code: Smart Casual
Genting Casino Liverpool Renshaw Street Licensee: Genting Casinos UK Limited is licensed and regulated by the UK Gambling Commission (See licensee).
THE GENTING CASINO RENSHAW STREET IN LIVERPOOL ON A MAP