Napoleons Casino & Restaurant – Leeds Review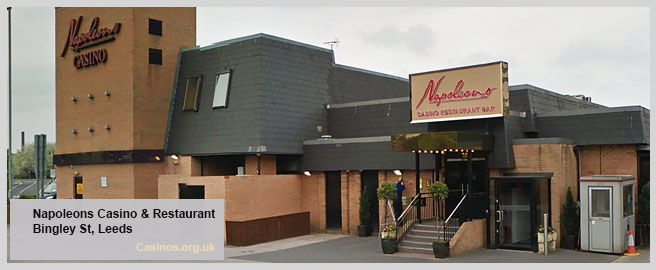 As the oldest casino in Leeds but also the smallest, there is something very unique about Napoleons Casino & restaurant. It was first launched back in 1980 at 2 Bingley Street in the city and after 39-years, it is still there and still going strong.
It has plenty of bigger competition these days but it still attracts a healthy crowd throughout the week but particularly on the weekends. An excellent restaurant is a big reason for this but the casino does also offer a decent gaming experience with all of the classic favourites available to be played.
Open between 12 noon and 7 am Monday to Friday and open 24 hours a day over the weekend, you can enjoy Roulette, Blackjack, three card poker as well as modern slots and roulette terminals.
NAPOLEONS CASINO & RESTAURANT – LEEDS GAMES
The gaming space here is very limited at just 8,300 square foot but they do try to make the most of it. You have 11 classic gaming tables in total and 42 electronic machines with those being a mixture of slot machines and roulette terminals.
Due to being close to 40-years old now, you can expect a more traditional style décor for this casino although it has of course been refurbished a few times in that time.
CASINO GAMING OPTIONS:

If poker is a game that you cannot get enough of, you will be glad to hear that they do have a separate card room at Napoleons Casino & Restaurant in Leeds. You can enjoy cash games each Friday and Saturday night from 9 pm onwards. Unfortunately, as the cardroom is quite small in size, you will not find any poker tournaments here.
NAPOLEONS CASINO & RESTAURANT – LEEDS DRESS CODE
While you will not have to dress up like a certain Mr. Bond, you will have to make some effort to be allowed into the Napoleons Casino & Restaurant. Shirt and tie are not necessary but football shirts and sportswear are a big no-no. Our advice would be to keep tattoos covered up as well while your footwear should always be closed.
FOOD & BEVERAGES
A common theme among most Napoleons is that their restaurants are seen to be equally as good as their casino floor. Well, we would argue that at the Leeds venue, their restaurant is of far better quality than the gaming that they provide.
The food here is amazing and the price is fantastic too. There are 34-tables in this restaurant which is arguably not enough as it is always packed on the weekends. Mainly British, the menu really does throw up some tasty surprises and it is little wonder it is so popular in the city.
From Monday to Saturday you can enjoy the sumptuous menu at the restaurant from 6.30 pm to 10.30 pm while on Sundays it is open between the hours of 12.30 pm and 9.30 pm.
As for relaxation, cold beers and live sporting action, it is the bar that you will want to visit. The bar is open at 3 pm during the week and at 12 noon on Saturday and Sunday and it will close at 5 am each day.
SPECIAL EVENTS
Unfortunately, unlike most of the other Napoleon Casinos in the UK, there is not too much in the way of live entertainment held at the Leeds casino. This is mainly due to its size but you can at least enjoy special events such as regular slot tournaments and discounts and deals in the casinos restaurant.
NAPOLEONS CASINO & RESTAURANT – LEEDS MEMBERSHIP INFO
Entry into Napoleons Casino & Restaurant does not require a membership but it is always recommended that you sign up for it. You will be able to take advantage of numerous promotions and bonuses that are made available to members only. Furthermore, as membership is free, you really have nothing to lose.
Simply bring along a photo ID and within 15-minutes you will have become the latest Napoleons member. Even if you did not want to become a member, you can still enter the casino but you will only be allowed to enjoy a max spend of £1,300 on their games. You will also only be able to cash out a maximum of £1,300 too but as long as you have photo ID, you can get around these limits.
ACCOMMODATION & TRANSPORTATION
Napoleons Casino & Restaurant is located right in the heart of Leeds so you will not have too much trouble finding your way there. If you are going by car, there is ample free parking available at the casino.
Leeds train station is a good 15-minute walk away or you could opt to grab a bus from the station to the Kirkstall Fire Station before walking for just 4-minutes to the casino. That bus stop is on a number of major routes in the city and is where you should be getting off if the bus is your main mode of transport to the casino.
There is a Hotel Ibis and Premier Inn not too far from the casino but if you wanted your accommodation to be a little more upmarket, you could opt for Sentinel Towers which is also close by.
LOCAL ATTRACTIONS
Leeds is renowned for being the cultural hub of Yorkshire and as such, you can expect to find some fascinating sights to explore when not trying to beat the local casinos. As well as world-famous annual events such as the Leeds Festival and the Leeds International Film Festival, you will be able to take in the history, arts and culture of the city by visiting the following:
Roundhay Park
Civic Quarter
Headrow and Briggate
The Royal Armouries Museum
Harewood House
NEARBY CASINOS
There is certainly a bit of competition in terms of casinos in Leeds as there are three in total within the city. Of the other alternatives to Napoleons is the Victoria Gate Casino and the Grosvenor Casino.
The latter is a relatively new casino with 51,000 square foot of gaming space, a huge number of slots and roulette machines, and 24 gaming tables. This is certainly the largest casino in the city and one that any casino lover should be looking to cross off their list. As for the former, this has a gaming floor measuring 19,000 square foot, is open 24/7 and has 14 gaming tables and 80 gaming machines.
Victoria Gate Casino
Grosvenor Casino – Leeds Westgate
CASINO RATING
Napoleons Casino & Restaurant, Leeds - Rating
Summary
Napoleons Casino & Restaurant in Leeds seems to have been power crept over the years. Despite being the oldest casino in the city having first opened its doors in 1980, it is now being held back due to its size.
When you consider that the Victoria Gate Casino is more than five times its size and the Grosvenor Casino is nearly three times its size, you can really see what it is up against. That said, for a more personal and cozy casino experience coupled with good food, the Napoleons Casino & Restaurant is still a great night out.
Pros
Great food and drinks
Very friendly and helpful staff
Very good service
Good atmosphere
Good parking
BASIC INFORMATION
Casino Name: Napoleons Casino & Restaurant – Leeds
Location: Leeds, UK
Address: 2 Bingley St, Leeds LS3 1LX, UK
Phone: +44 113 244 5393
Opening Hours: 12PM – 7AM
Table Games: Yes
Slots: Yes
Dress Code: Smart Casual
Napoleons Casino & Restaurant, Leeds Licensee: The A&S Leisure Group is licensed and regulated by the UK Gambling Commission (See licensee).
THE NAPOLEONS CASINO & RESTAURANT IN LEEDS ON A MAP