Grosvenor Casino – Leeds Westgate Review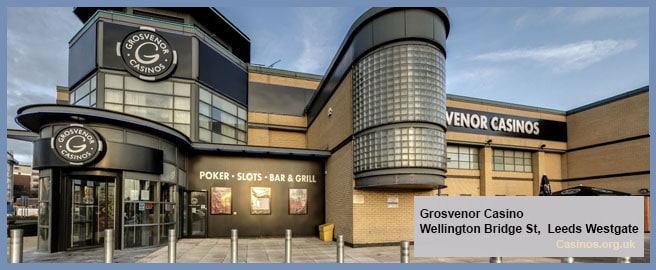 Grosvenor Casino Leeds Westgate is one of the most popular casinos in the city of Leeds in Northern England. It is part of the Grosvenor Casino chain and was previously known as the Gala Casino Leeds. This modernized casino comes fully equipped with two bars, restaurant, and a wide selection of casino games. Grosvenor Casino Leeds offers free membership for both its Leeds casino as well as the Grosvenor Online casino.
The casino is located just west of the town center on Kirkstall Road and you will be able to find parking available on-site. It is close to other Leeds casinos as well as popular tourist attractions and nightlife locations.
GROSVENOR CASINO – LEEDS WESTGATE GAMES
The Grosvenor Casino Leeds Westgate is a step up from what it used to be, now offering all the casino games you would expect to find in a top-quality casino. Table games, electronic games, and cash poker games can all be experienced. In total there are 81 table games which make it one of the largest casinos in Leeds. You will find popular games like roulette, blackjack, poker, and baccarat all available.
CASINO GAMING OPTIONS:
American Roulette – 10 Tables [GBP 0.50 – GBP 5]
Electronic Roulette – 62 Tables [GBP 0.20 – GBP 5]
Blackjack – 5 Tables [GBP 1 – GBP 100]
Stud Poker – 1 Table [GBP 2 – GBP 100]
Jackpot Stud Poker – 1 Table [GBP 1]
Card Poker – 1 Table [GBP 5 – GBP 100]
Punto Baccarat – 1 Table [GBP 5 – GBP 1000]

In addition to the above table games, there are also cash poker games and jackpot tournaments available every day. The Grosvenor Poker App is an easy-to-use mobile app that will keep you updated with all the Grosvenor Casino Leeds Westgate poker action.
GROSVENOR CASINO – LEEDS WESTGATE DRESS CODE
The Grosvenor Casino chain requires all guests to dress appropriately in smart-casual attire. There is no need to dress formally, but no offensive clothing or tattoos may be visible upon entry. There is also a list of items that are not accepted in most UK casinos, including headwear that blocks the CCTV, sportswear, tracksuits, and work clothes. As long as you aren't wearing these prohibited items you can come dressed as you like.
FOOD & BEVERAGES
Food and beverages are available from three locations in Grosvenor Casino Leeds Westgate. There are two bars located on the gaming floor and an on-site restaurant. The two bars serve a large selection of drinks including beers & ciders, wine, and spirits. If you're a member you will also be entitled to discounts and free drinks from the bar so make sure you register to take advantage of these rewards.
The restaurant has an extensive menu that covers most popular meals including chicken, fish, burgers & steaks, light snacks, and delicious desserts. There is also a kids menu available for those bringing children along to eat.
There is also an everyday Full House Experience which will entitle you to a drink on arrival, a three-course meal, and free GBP 5 to use on the slots and gaming. This full house experience costs 30 GBP per person.
SPECIAL EVENTS
The cash poker events are the main special event that takes place every day. These cash poker games allow gamers to participate with re-buys and there are jackpots that can be won.
A new special event has been added to the table games with their Ace, King, Suited blackjack progressive side bet. If you're looking to hit a big jackpot then this is a great option for you. Winning hands range from a straight-up to Ace, King, Suited for the maximum jackpot.
GROSVENOR CASINO – LEEDS WESTGATE MEMBERSHIP INFO
Grosvenor Casino Leeds Westgate offers the Grosvenor One membership which is applicable across all Grosvenor Casinos in the UK as well as their online casino. This membership is free and is useful for gamers using both the online and local casinos because you can use a single wallet for both casinos. Top up your online account in-casino or even withdrawal some of your winnings. Registration is free and must be completed in a local Grosvenor Casino.
The single wallet isn't the only benefit of signing up for a membership, Grosvenor Casino Leeds Westgate is always offering new promotions and bonuses for members, both in their local casino and online. In the casino you will be able to skill the queue at the casino as well as get free drinks and discounts to be used at the bars or restaurants.
Once you have signed up in the local casino you can complete your registration online. Once you have completed this still you will receive a GBP 30 free welcome bonus as well as 50 free Cleopatra Spins online plus 10 GBP Cash. Any sportsbook gamers will also receive GBP 5 every week if they bet GBP 25 or more.
ACCOMMODATION & TRANSPORTATION
Leeds is one of the larger cities in England and has many ways to access it, either via road, train or from Leeds Airport. If you're travelling by car you can either use the A1 road if you're travelling from North or South of Leeds; while if you're travelling from the East or West you can use the M62. Once you arrive in Leeds you need to travel just west of the city centre to find Grosvenor Casino Leeds Westgate. It is located along the River Aire just a short distance from Hanover Square.
If you don't have your own transportation you can use a taxi or the nearby bus stop on Kirkstall Road by the Fire Station which is less than a 5 minutes' walk from the casino.
Accommodation is available in Leeds both near to the city and in the surrounding suburbs. There are a few options on the same street as the casino within walking distance. Hotel Ibis Leeds Centre is a 2-star hotel that offers decent accommodation for a reasonable price, while the Crowne Plaza Leeds is a 4-star hotel with more amenities available.
LOCAL ATTRACTIONS
Leeds is a popular city in Northern England with vibrant art, modern buildings, as well as a lot of history related to its industrial past. The city is also on the border of the beautiful Yorkshire Dales and is the unofficial capital of Yorkshire. Some of the best tourist attractions are in the city centre very close to the casino like the River Aire, Hanover Square, Leeds City Square, and the Henry Moore Institute. Other attractions in the city include:
Civic Quarter
Headrow and Briggate
The Royal Armouries Museum – which also houses King Henry VIII's body armour.
St John the Evangelist's Church
Leeds Corn Exchange
Harewood House
NEARBY CASINOS
There are plenty of casinos to choose from in Leeds so if you want a change of scenery from the Grosvenor Casino then you can literally just walk across the street to another casino. Napoleons is another popular Leeds casino and is located just across the road from the Grosvenor Casino. It is open 24/7 and another great place to visit with both table games and slot machines. Other casinos in the area are a bit further away, but still within a 10-minute drive. With 2 Admiral Casinos and 4 Merkur Cashinos, these are definitely the most active casino chains in the city.
Admiral Casino: Leeds (Headrow)
Admiral Casino: Leeds
4 Merkur Casino
MissDeal Fun Casinos
GENTING ONLINE CASINO GAMES
Grosvenor Online Casino is an easy-to-use online casino that allows gamers to continue the high-quality Grosvenor Casino experience from the comfort of their own home. Even if you don't intend on gaming, you will need to complete your registration online if you wish to become a local Grosvenor Casino member. The Grosvenor One membership also entitles you to a free welcome bonus to use online as well as free spins to use on the Cleopatra Online Slot.
Members can deposit and withdrawal online funds directly from a local casino, but otherwise, you can also use PayPal, VISA, MasterCard, Maestro, and PaySafeCard. In terms of online regulations, you might be required to provide proof of residence after you reach a certain threshold.
You'll find a wide selection of online casino games with all the games you'd expect to find in a normal casino as well as live casino games with real UK dealers. The most popular games available are:
Lucky Lady's Charm Deluxe
Reel King Mega
Live Roulette
Live Blackjack
Well of Wishes
Book of Ra Deluxe
LIVE CASINO GAMES
The live casino games can be accessed from the homepage of the Grosvenor Casino website and include over 20 games all featuring exclusive UK dealers.
Monopoly Live
Roulette Live
Blackjack Live
Baccarat Live
Deal or No Deal Live
CASINO RATING
Grosvenor Casino, Leeds Westage - Rating
Summary
A large selection of table games, electronic games, as well as 2 bars, a restaurant, and a very beneficial membership, Grosvenor Casino Leeds should be one of the first casinos on your list when visiting the city. It is centrally located making it the perfect base of operations for your visit to Leeds.
Pros
Very good food
Very friendly and helpful staff
Free onsite car parking
Nice atmosphere
Cons
Not enough tables open at weekends
Parked car must be registered to avoid a parking fine
BASIC INFORMATION
Casino Name: Grosvenor Casino – Leeds
Location: Leeds, UK
Address: Wellington Bridge St, Leeds LS3 1LW, UK
Phone: +44 113 389 3700
Opening Hours: 24 / 7
Table Games: Yes
Slots: Yes
Dress Code: Smart Casual
Grosvenor Casino Licensee:Grosvenor Casinos Limited Limited is licensed and regulated by the UK Gambling Commission (See licensee).
THE GROSVENOR CASINO IN LEEDS WESTGATE ON A MAP