Best Western Palace Hotel & Casino Review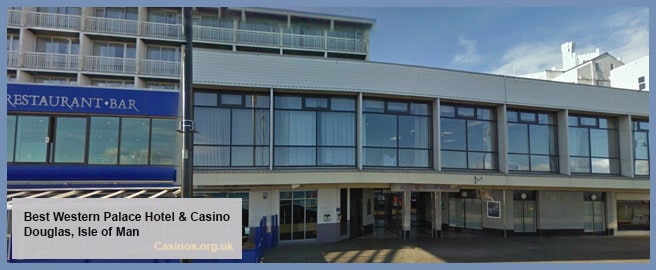 Located on the famous Isle of Man, Best Western Palace Hotel & Casino is a wonderful 4-star accommodation with plenty of amenities including their own on-premises casino. You'll find the casino inside the hotel premises on the first floor with basic table games and a decent selection of slot machines. The hotel & casino is located along Central Promenade overlooking Douglas Bay and there are many popular tourist attractions to visit while on holiday here.
This small casino is well-stocked for a hotel amenity and you'll even find regular poker nights and casino fun nights. In terms of games, the Palace Hotel Casino offers mains slot machines but there's also blackjack, brag poker, and roulette. The casino employees are very friendly and are accommodating for entry-level casino gamers who are unfamiliar with some of the more difficult aspects of casino gaming. The casino is also available for corporate gaming events, functions, and parties with free access available to everyone with optional membership available.
BEST WESTERN PALACE HOTEL & CASINO GAMES
The Palace Hotel Casino is filled with popular casino games to ensure that you have everything you need on your visit to this Best Western Hotel. The games are open every day in the evenings from 7 pm until 3 am, during the week, and until 4 am on weekends. Table games are available every day of the week. Roulette, blackjack, poker, and slot machines can all be found in the casino. These games can be enjoyed by hotel members and walk-ins but all gamers are required to be over the age of 18.
CASINO GAMING OPTIONS:
Roulette – 3 Tables [£1 – £50]
Blackjack – 3 Tables [£2 – £200]
Casino Brag Poker – 1 Table [£1 – £50] [£20 Pair Plus]

BEST WESTERN PALACE HOTEL & CASINO DRESS CODE
The Best Western Palace Hotel & Casino has a dress code in line with most other UK casinos, requiring guests to dress smart-casual. Guests are requested not to wear any sportswear, work clothing, or shorts when entering this casino. As long as you are dressed appropriately and not wearing anything offensive, then you will not be turned away.
FOOD & BEVERAGES
The casino itself has a small bar located just outside which can be used to order drinks and light snacks, but for a proper food and beverage experience, you can enjoy the popular Paragon Restaurant & Bar located within this Best Western Hotel. The Slots Café Bar is open from 1 pm – 11 pm every day and you are welcome to enjoy a complimentary tea or coffee.
The Paragon Restaurant & Bar is where you can go for food and drinks throughout the day. They start their food service in the morning with a complimentary breakfast buffet for all members. The restaurant also has its own menu for walk-in guests where you can enjoy continental breakfasts, cereals, and freshly-made pastries.
The restaurant is also available for lunch, dinner, and midday snacks with different dining options available from their main menu, children's menu, ice cream menu, and sample daily menu. This restaurant has quality written all over it and was awarded the Taste Quality Assured Silver Award in 2018. If you want to enjoy a meal at this popular restaurant make sure to make a reservation beforehand if you don't want to be disappointed.
SPECIAL EVENTS
The casino itself has a few popular events to keep casino enthusiasts happy, including Casino Fun Nights and Poker Nights. The poker nights take place on Fridays and Saturdays and offer different prizes for the lucky gamers who win. These poker nights offer different rewards and events depending on which day you go with options like No-Limit Hold 'em, Bounty Hunter, and Re-buy tournaments. Registration for these poker nights takes place at 7 pm on the same night and the tournaments start at 8 pm sharp. A complimentary buffet is offered between the 1st tournament break.
The Casino Fun Nights are a great way to enjoy the casino with your friends for only £25 per person. These nights require pre-booking and are privately managed for a minimum of 10 people. If you're interested you can organise with management and as the 'party organiser,' you'll receive a £20 Free Play Bet. These unique party nights have their own tournaments with prizes included as well as an authentic Chinese buffet.
Since the casino is located in the Best Western Palace Hotel, you also have a lot of other special events and amenities available to you during your stay. The Delegate Package is available for small or large groups and ensures that everyone involved gets refreshments, entertainment, and a meal according to the chosen menu. The special amenities available are:
Indoor Pool
Steam Room
Spa
Hot tub
Massage Services
Barber/Beauty Shop
Business Centre
Equipment Rental
BEST WESTERN PALACE HOTEL & CASINO MEMBERSHIP INFO
The membership at the Palace Hotel & Casino is free of charge and available to both hotel members and walk-in guests. This membership offers guests a rewards card which can be used at any Best Western casino. The more games you play the more points you will earn which can then be redeemed for discounts and food/drink prizes at the restaurants.
ACCOMMODATION & TRANSPORTATION
The Best Western Palace Hotel & Casino is located on the Isle of Man and can be travelled to by aeroplane or boat. The Ise of Man Airport is the closest option to the casino and will require you to drive 20-minutes along the A5 before reaching the city of Douglas along the Central-East coast of the island. If you're travelling by ferry you can choose between one of three ferry routes that run between England and the island every day with a total of 28 sailings per week. All of these ferries arrive in Douglas, near to the hotel and casino, and can be caught from Heysham, Liverpool, or Liverpool Birkenhead.
Arriving in the city you can travel along Ballaquayle Road until you reach the coastline and Central Promenade. From here you will travel a further 5 minutes North until you reach the hotel which is easily identified. There is outdoor parking available at the hotel but it does require a fee of £4 per 24-hours.
If you're looking for accommodation close to the casino then look no further than the Palace Hotel itself. The casino is one the first floor and means you'll just have to hop in the elevator to get to your bedroom after a night of gaming. This 4-star hotel is highly rated with a host of amenities to choose from including an indoor swimming pool, spa, and complimentary breakfast.
Other accommodation options on the island include:
The Imperial Dragon
Rutland Hotel
Inglewood Guest House
Hydro Hotel
The Island Hotel
LOCAL ATTRACTIONS
Local attractions are plentiful on the Isle of Man which is one of the most magnificent tourist destinations close to England. Here you will find a self-governing British Crown dependency that will feel like a home away from home. Rugged coastlines, medieval castles, and British-style countrysides make for a wonderful experience. The island is also home to mountains and many popular outdoor activities as well as cultural sites including those commemorating the islands Celtic and Viking Heritage.
Douglas Head
Tynwald Day
Manx Museum
Castletown & Castle Rushen
St. Patrick's Isle & Peel Castle
The Isle of Man TT
CASINO RATING
Best Western Palace Hotel & Casino, Isle of Man - Rating
Summary
Although the Isle of Man isn't a part of the UK, this casino will make you feel right at home. Located inside this popular hotel along the beautiful central promenade, Palace Hotel Casino comes equipped with a basic collection of table games and slot machines. Their special casino events, including poker nights and fun nights, as well as their Slots Café Bar, ensure that you have everything you need while visiting.
Pros
Very friendly and helpful staff
Good atmosphere
Easy parking
Cons
Hotel exterior and parts of the interior are looking a bit shabby
BASIC INFORMATION
Casino Name: Palace Hotel Casino – Isle of Man
Location: Douglas, Isle of Man
Address: Central Promenade, Douglas, Isle of Man IM2 4NA, Isle of Man
Phone: +44 333 003 4265
Opening Hours: 24 / 7
Table Games: Yes
Slots: Yes
Dress Code: Smart Casual
THE BEST WESTERN PALACE HOTEL & CASINO IN ISLE OF MAN ON A MAP