Grosvenor Casino Dundee Review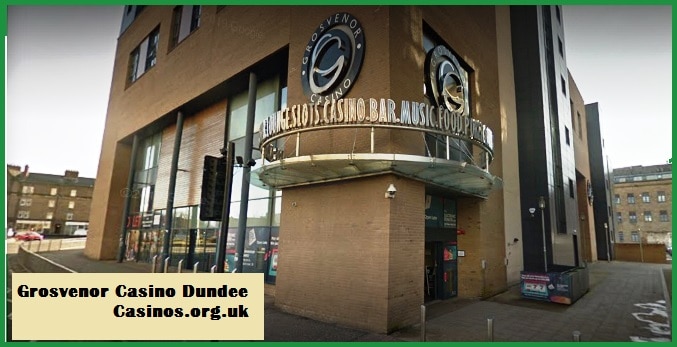 The only casino in town can be found at 142 West Marketgait in the city of Dundee. The Grosvenor Casino is open between the hours of 2 pm and 6 am and can offer you a good selection of casino games to enjoy, a superb restaurant, a bar, smoking area and a conference room which is available to host group bookings and corporate events.
Grosvenor Casino Dundee Games
The Grosvenor Casino in Dundee can really only be classed as a small casino when compared to most others in the UK. It has a 30,000 square foot gaming floor which does still fit quite a large number of gaming tables, electronic roulette machines and slot machines.
Roulette has the most tables with six while Blackjack and 3-Card Poker are the other two table games on offer at this casino. The slots and gaming machines are dotted all around the casino while a dedicated poker room is available for cash games and tournaments.
CASINO GAMING OPTIONS:
4 Tables of Blackjack (£2,000 Max Bet)
6 Tables of Roulette (£400 Max Bet)
1 Table of 3-Card Poker (£400 Max Bet)
20+ Slot Machines
30+ Electronic Roulette Machines
80-Seat Poker Room
Cash poker games usually kick off at around 7 pm each night and can stay open for as late as 5 am depending on if there are enough players around. As for poker tournaments, there is one held in the casino each and every day with the best being saved for Saturdays. This one has a guaranteed prize pool of £5,000 and always attracts a healthy player count.
Grosvenor Casino Dundee Dress Code
As long as you dress to look clean and smart, you will not have too much trouble gaining entry to the Grosvenor Casino in Dundee. They adopt a smart/casual dress code here but it's not the strictest around. Try not to wear offensive T-shirts, sportswear, caps or open-toed footwear and you should be fine.
Food & Beverages
For some great eats while enjoying a night out at the casino, you have to do little more than making your way to their in-house restaurant. The Gallery Restaurant is open between 1.30pm and 11 pm daily and will serve up a wide range of culinary treats that will leave your taste buds happy and your stomach satisfied.
Succulent steaks, international favourites and local delights can all be found on their menu and you also have a large selection of refreshments to help chase down the tasty food. Some sublime desserts are also on the menu for those of you that have the sweetest of sweet tooths.
The bar is also a great place to get some drinks as you might expect and this is an ideal place to unwind and relax after a long session at the gaming tables.
SPECIAL EVENTS
The sports and entertainment lounge is where many of the special events will take place at the Grosvenor Casino in Dundee. These do not really extend to much more than some live music/entertainment but the quality is usually of a good standard.
Any special event that is planned can be found if you follow the casino on social media. Grosvenor loves to use Facebook and Twitter in particular so those are the best places to keep you up to date.
One event that it does hold in its poker room is a leg of the Grosvenor Poker Tour (GPS) which is held every year. Some of the best players in the UK and around the world make their way to the casino to see if they can advance in the tournament.
Grosvenor Casino Dundee Membership Info
While it is not required that you register for membership with the Grosvenor Casino in Dundee, you will miss out on quite a few benefits if you choose not to. As well as qualifying for the many member-only promotions that Grosvenor regularly runs, you will also be able to earn rewards points that can be traded in for free drinks, money off meals or even for some free bets.
Registering takes just a few minutes and will require you to bring identification that has a photograph of you on it. This has to be nationally recognised so a passport or driving license would be the best idea.
Accommodation & Transportation
Free parking is provided by the Grosvenor Casino in Dundee but this is done via validating your parking ticket for the Brown Street carpark upon exit from the casino.
If you're coming into Dundee by air, Dundee Airport is just 2-miles away from the casino which equates to about 10-minutes travel by car. As for coming in by train, the closest station is the Brown Street station which is just a 3-minute walk from the casino.
As for accommodation, the closest, most convenient but probably most expensive option is the Hampton by Hilton which is opposite the Grosvenor Casino. A little further afield you will be able to find more affordable accommodation at a Best Western and a Premier Inn.
Local Attractions
If you are looking for something else to do during your visit to Dundee, you are certainly spoilt for choice. Whether you wanted to take in a number of museums, explore the wildlife in this coastal city, or have a fun-filled family day out with your family, you will be able to do exactly that in Dundee.
As well as the following local attractions in Dundee, you will also be able to enjoy a lively night scene and plenty of good quality restaurants and hotels in the area.
Broughty Castle Museum
Camperdown Wildlife Centre
Craigtoun Country Park
Tentsmuir Forest
Nearby Casinos
The Grosvenor Casino is the only casino located in Dundee. While this is a bit of a shame, you will be able to find a couple of casinos in Aberdeen which is not all that far away. They include the Aberdeen branch of Grosvenor Casino and the smaller Rainbow Casino.
Both are great options if you wanted to experience some other casinos but the Grosvenor in Dundee is your only option in the city as of now.
Grosvenor Online Casino Games
In a perfect world, we would always have the time to be able to go to our favourite Grosvenor Casino in person but unfortunately, we do not live in a perfect world. That said, you could always take advantage of the online casino that Grosvenor provides so that you can play at home when your time is limited.
Their online casino is loaded with more than 400 games to enjoy, numerous bonuses including a welcome bonus and a plethora of ways to deposit and withdraw your money. Of those games, the vast majority are online slots but you will also be able to enjoy table games, poker, video poker and even sports betting.
This is what you can expect at the Grosvenor online casino:
Lucrative Welcome Bonus
Vast Number of Online Slots
Regular Bonuses and Promotions
All Major Table Games
UKGC Regulation
Sports Betting
Online Poker
Live Dealer Suite at Grosvenor Casino
As well as a wide range of slots and other games that can be enjoyed at the Grosvenor online casino is more than 21 LIVE dealer table games. These games are operated by real dealers/croupiers from another location and you will get to see the live-action via a stream.
The best part about this is that the results will be determined by the laws of physics rather than some software code. You will see the roulette ball land on red or the cards flipped over to reveal your winning blackjack hand.
Of the table games you can enjoy in the live dealer suite, the following are included:
Roulette
Blackjack
Baccarat
Sic Bo
Monopoly
Casino Rating:
Grosvenor Casino Dundee Ratings
Summary
You might only have this casino as an option in Dundee but you can expect a very high standard of quality at the Grosvenor Casino. With a plethora of games to enjoy, plenty of entertainment to be had in the restaurant and bar, and a lively atmosphere that really peaks on the weekends, this place is certainly worth a visit if you haven't yet done so.
Pros
Has a 3.9 Google User Star Rating
Nice Selection of  Casino Games
Friendly staff, clean toilets
Low Betting Limits: 50p For Slots and Roulette, Auto roulette Down to 10p
Cons
Can be Slow Food Service on Weekends
BASIC INFORMATION
Casino Name: Grosvenor Casino Dundee
Location: Dundee, UK
Address: 142 W Marketgait, Dundee DD1 1NJ, Scotland
Phone: 01382 309 120
Opening Hours: 12pm  – 06am
Table Games: Yes
Slots: Yes
Dress Code: Smart Casual
Grosvenor Casino Gambling Licensee: Grosvenor is licensed and regulated by the UK Gambling Commission (See licensee).
Grosvenor Casino Dundee on a Map: