Grosvenor Casino Didsbury Review

If you're looking for a casino to enjoy in Didsbury, you really only have one option. Fortunately, despite being the only casino in town and a relatively small one at that, the atmosphere, décor and variation of games on offer is of a very good standard.
Open from 11 am to 6 am and offering free parking, the Grosvenor Casino Didsbury can be found in the Parrswood Entertainment Centre which is just off the A34. While the casino opens that early seven days a week, you will only be able to enjoy the slots and electronic roulette tables for the first three hours. The live table games do not open up until 2 pm each day.
Grosvenor Casino Didsbury Games
From the outside, the Grosvenor Casino in Didsbury looks absolutely huge but once you enter the Parrswood Entertainment Centre, you will quickly realise that the casino only occupies the first floor. The ground floor is currently a gym, which at least gives you somewhere to sweat off any losses!
Despite that, there are plenty of tables and gaming machines for you to enjoy. There 14 tables and an astonishing 50 gaming machines scattered around the casino floor. Some of the latter are slot machines and progressive jackpot slots but 30 of them are actually roulette terminals which have proved extremely popular with customers here.
A poker room can also be found in a secluded area away from the main table and it is here where you can pit your wits against other players at various variations of poker. Cash games and tournaments are regularly held here and these can be fairly large due to the 100-seats available.
CASINO GAMING OPTIONS:
6 American Roulette Tables
7 Blackjack Tables
Three Card Poker Table
30 Electronic Roulette Terminals
20 Slot Machines
100-Seat Poker Room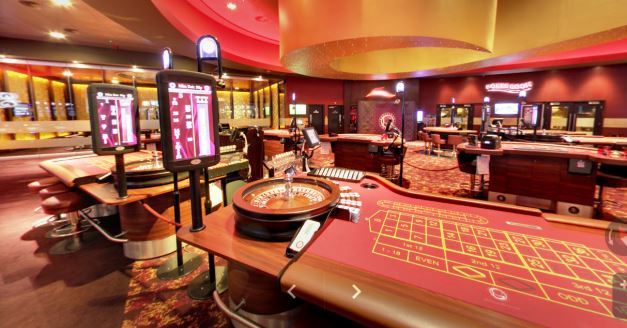 Betting limits at the tables will usually start at £5 and depending on the game, you will be able to places bets as high as £5,000. Slots and the roulette machine is where the smaller bets can be enjoyed with you being able to bet as little as 20p per spin.

Grosvenor Casino Didsbury Dress Code
All Grosvenor Casinos are fairly laid back when it comes to dress code but you should still make an effort. There might not be a need for shirts, ties and jackets but the smart casual is the bare minimum. Avoid wearing caps as you will be asked to remove them as you will be obscuring your face from CCTV on their property.
Food & Beverages
It can be hungry work spending a good few hours on the casino floor chasing big payouts but fortunately, there is a restaurant on site that will be able to help you refuel. They offer an extensive menu that will no doubt have something for everyone.
Whether you want to go ala carte, enjoy a three-course meal or simply dive into some ice cream, you will be able to do so at the Gallery Restaurant. The prices are great too, which ensures you have some more cash to gamble with on the casino floor.
The bar and lounge area is also nearby and here you can chill out a bit, take a few minutes break from the tables and enjoy a tipple of your choosing. You can even catch the latest match on the many televisions scattered around the bar.
Special Events
The bar is also where you will be able to enjoy any entertainment that the Grosvenor Casino has up their sleeves. You can expect to see tribute acts, comedy shows and even a DJ that has the place pumping with tunes each and every Saturday night.
You can keep right up to date with any events that they have planned for the Grosvenor Casino in Didsbury by following their Facebook page. When something really appealing comes along, it might make for a great night for you, your friends and your family.
Grosvenor Casino Didsbury Membership Info
If you wanted to start collecting reward points whenever you play at a Grosvenor Casino or when you use their online casino, you should sign up for membership. Of course, you do not have to as they have an open-door policy but doing so brings plenty of benefits.
Just bring your passport or driving license if you do wish to sign up. You might want to bring some ID even if you do not plan to become a member, as you will be asked to prove your age if you look under 21-years old.
GROSVENOR ONLINE CASINO GAMES
On those occasions where you do not have the time to travel to the Didsbury Grosvenor Casino, you might want to consider using their online casino instead. Here you will be able to enjoy close to 500 casino games from some of the industries leading developers, play on progressive jackpots slots that could make you a millionaire and essentially just have a great time while at home.
The Grosvenor online casino offers up a welcome bonus to new players, regular deposit bonuses and will give you a variety of ways to get your money in and out of their casino. Take a look at some of the games that you can enjoy online:
Classic Slots
3D slots
Progressive Slots
Video Slots
Table Games
Dice Games
Card Games
Enjoy a LIVE Dealer Experience
The Grosvenor Casino also gives you access to a LIVE dealer suite of games. If you've never heard of this type of game, its something of a cross between playing online and in a land-based casino.
A real and highly trained dealer or croupier will host your table or game which you will see LIVE via webcam. There is no RNG software involved in the determining of an outcome and instead, you will be able to trust your own eyes instead.
Grosvenor Casino Didsbury Ratings
Summary
We're always told that size doesn't matter but in the case of the Grosvenor Casino Didsbury, this is actually quite true. Fairly small in size but really big in quality and atmosphere, this casino is well worth checking out if you ever find yourself close by.
Pros
Has a 4.1 Google User Star Rating
Great Staff & Great Atmosphere
Good Poker Tournament on Wednesdays
Nice Food
Cons
Toilets Could be in Better
BASIC INFORMATION
Casino Name: Grosvenor Casino Didsbury
Location: Didsbury, UK
Address: Parrs Wood Entertainment Centre, Wilmslow Rd, Manchester M20 5PG United Kiingdom
Phone: 0161 669 7165
Table Games: Yes
Slots: Yes
Dress code: Smart Casual
Opening Hours: 11  – 06am
Grosvenor Casino Didsbury Gambling Licensee: Grosvenor is licensed and regulated by the UK Gambling Commission (See licensee).
Grosvenor Casino Didsbury on a map: