Genting Casino – Riverlights Derby Review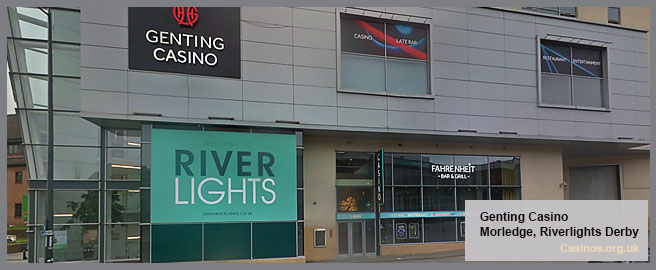 The Genting Casino Riverlights Derby first opened its doors in 2011 and is a large and modern casino that carries numerous gaming options spread across a spacious gaming floor, a good quality inhouse restaurant and two bars for you to kick your feet up in.
The casino is open seven days a week between the hours of 12 pm and 6 am and will provide you with classic table games such as Roulette, Blackjack, 3-Card Poker, Baccarat, a separate cardroom for poker and numerous slot and roulette machines.
GENTING CASINO – RIVERLIGHTS DERBY GAMES
Styled more like a casino you might see in Las Vegas than what you might be used to here in the UK, the Genting Casino is quite the breath of fresh air. There is so much space around the gaming floor and it is great to not feel like everything has been crammed in just to make the casino a bit more money.
In total, you will find 14 classic table games on the casino floor and 18 electronic roulette terminals scattered around as well. Numerous slot machines will also be found all over the casino with popular titles from Novomatic a particular favourite with visitors. Some of these slots will not only have local jackpots of up to £10,000 but also progressive jackpots that could be as much as £20,000.
CASINO GAMING OPTIONS:


As well as the gaming options that you have on the gaming floor, you will also be able to enjoy cash games and tournaments in their poker room. Cash games are available on a daily basis and you will be able to play a variety of poker variations at agreed buy-ins and blinds.
Tournaments are also held regularly with their full schedule listed on their website and on their Facebook page.
GENTING CASINO – RIVERLIGHTS DERBY DRESS CODE
There is a common misconception among those that do not know better that you have to really dress up to be able to gain entry to a casino in the UK. This really is not the case as a smart casual dress code is employed by most casinos on these shores.
Of course, you still have to look presentable and that means no bare chests, football shirts, tracksuits or any other scruffy looking apparel. Apart from that, you are good to go as long as you look fairly smart.
FOOD & BEVERAGES
The Fahrenheit Restaurant is where you will want to go when you start to feel hungry and it is open from 6 pm to 11 pm daily. In our opinion this restaurant is probably worth a visit to the casino on its own as in terms of quality and value, this is right up there with the best in Derby.
The a la carte menu has some delightful dishes to choose from and the décor in the restaurant is almost as tasty as the food that you are eating. Of course, anything you eat can be washed down with a good helping of the finest wines, strongest spirit, tastiest beer or craziest cocktail of your choosing.
Once the restaurant closes, your next option for food is the Late Bar which has a light meal/snack menu that you can dive into. Additionally, you once again have a wide range of choice when it comes to refreshments whether alcoholic or not.
SPECIAL EVENTS
That bar is where you will find most of the casinos live entertainment. Weekends is when you will get to see the best stuff and you can expect regular comedy nights, live music, tribute bands and even karaoke nights to ensure some crowd participation.
Other promotions include being able to take the Genting Casino up on some 'Experience Nights'. These package deals are ideal if you are not familiar with how to play a certain game at their casino. You will get a 3-course meal, drink, a gaming chip and tutoring from a staff member on how to effectively play the game of your choice – all for a great value price.
GENTING CASINO – RIVERLIGHTS DERBY MEMBERSHIP INFO
Entry is free at the Genting Casino Riverlights Derby and so is membership if you are interested in benefits such as earning reward points. If not, you will still be able as long as you look and can prove that you are older than 18-years of age.
Please note that non-members will have to pay a £5 entry charge after 11 pm on Fridays and Saturdays. Sundays just prior to a bank holiday will also see a fee charged after 11 pm to non-members. Surely that is a reason alone to sign up for a membership with Genting? That and the many benefits above that you can take advantage of.
ACCOMMODATION & TRANSPORTATION
There is no car parking available at the Riverlights Casino but this can be easily addressed by parking up at the Intu Derby Shopping Centre car park just down the road. Rates here are not too bad at all as it will cost you around £2 to park overnight between the hours of 6 pm and 6 am.
The casino has also picked an almost perfect location for those of you coming in on the bus. The cities main bus station is situated directly next door. Train travelers will also not have much problem as the Derby Midland train station is located just a mile down the road. If all else fails and you need a taxi when leaving the casino, again, there is a taxi rank right on your doorstep.
A Travelodge, Premier Inn, the Jurys Inn Derby and the Cathedral Quarter Hotel are just some of the hotels located close to the casino and will give you the most convenient options for accommodation.
LOCAL ATTRACTIONS
Admittedly, Derby might not be the most fashionable city in the UK to visit but it does have some wonderful little quirks and plenty of attractions to visit. Museums, Art Galleries, a plethora of parks and historical buildings are situated throughout the city and well worth a look when taking a break from the Riverlights Genting Casino.
National Trust – Calke Abbey
Crich Tramway Village
Derby Museum & Art Gallery
Elvaston Castle
Derby Cathedral
NEARBY CASINOS
Since the 2013 closure of the Genting Casino Friar Gate, the Genting Casino Riverlights is now the only land-based in Derby. In fact, it was the £6 million development and opening of the Riverlights Casino in 2011 that helped them to make their mind up. They wanted to focus all of their attention on their newest casino and even relocated most of the staff to this casino as part of the closure.
As of now, the closest competition to the Riverlights will now be found in surrounding cities such as Birmingham, Nottingham, Sheffield and Northampton.
GENTING ONLINE CASINO GAMES
While it would be nice to be able to go to the casino on as many nights as possible, this will not always be possible for many of you. This is why the Genting online casino is a great alternative as you will able to experience the quality gambling experience that Genting brings directly from your computer or mobile device.
At their online casino, you will be able to experience more than 300 casino games broken up into categories such as table games, slots, video poker and a live dealer suite. Furthermore, you will be able to get your hands on some excellent deposit bonuses, especially their 100% match deposit bonus and 20 free spins that they give away as their welcome bonus.
Of the many popular slots, games that you can play at the Genting online casino include:
Book of Ra
Starburst
Lucky Lady's Charm
Incinerator
Easter Island
CASINO RATING
Genting Casino, Riverlights Derby - Rating
Summary
There is very little doubt as to which is the best casino in Derby simply because there is no other. Still, any casino that might open its doors in the city in the future will still have its work cut out competing with the Genting Riverlights Derby Casino.
It has a modern Vegas-style layout, has just about all the gaming options that you need, has a fantastic restaurant and is situated in an easy to reach location. All in all this casino provides you with the opportunity to have a fantastic night out as well as the potential to bring home some extra money.
Pros
Good service
Very friendly and helpful staff
Nice atmosphere
Good food and drinks
Cons
Drinks prices are a little high
BASIC INFORMATION
Casino Name: Genting Casino – Riverlights Derby
Location: Derby, UK
Address: Derby Riverlights, Morledge, Derby DE1 2AY, UK
Phone: +44 1332 387690
Opening Hours: 12 pm – 6am
Table Games: Yes
Slots: Yes
Dress Code: Smart Casual
Genting Casino in Riverlights Derby Licensee: Genting Casinos UK Limited is licensed and regulated by the UK Gambling Commission (See licensee).
THE GENTING CASINO IN RIVERLIGHTS DERBY ON A MAP