Les Croupiers Casino Review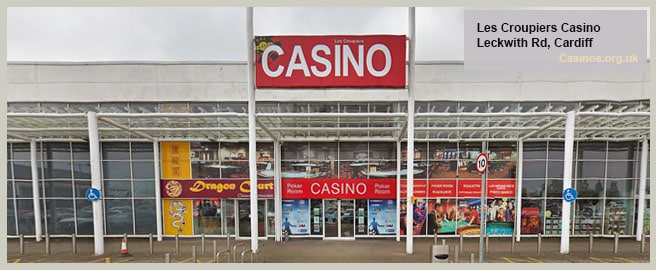 Les Croupiers Casino prides itself on being one of the largest independent casinos in the UK and the fact that the name has been synonymous with UK gambling for more than 50-years. Still going strong after half a century, this casino is still one of the most enjoyable nights out that can be had in Wales.
Initially located on St. Mary Street in Cardiff since 1968, the Les Croupiers Casino has since moved to the Capital Retail Shopping Park on Leckwith Road. This is opposite to the Cardiff City Football Stadium giving fans the ability to have some additional fun whether matchday comes around.
The casino opens daily at 2 pm and closes at 7 am on Monday, Tuesday and Wednesday and at 6 am on all other days. Furthermore, due to being in close proximity to the Cardiff City Stadium, the casino will open its doors earlier at 12 pm on matchdays.
LES CROUPIERS CASINO GAMES
While 20,000 square of gaming space does not put the Les Croupiers Casino up there with the largest in the UK, it is still quite easily the largest in Wales. Taking up that space is a total of 20 live gaming tables and 56 gaming machines. The table games represented are Roulette, Blackjack, 3-Card Poker and Punto Banco while those gaming machines are all made up of slots and roulette terminals.
Among many other popular slot machine titles on offer at the casino includes the likes of Book of Ra, Lucky Lady's Charm, Pharaoh's Fortune and Cleopatra. Each of their slot machines is on a progressive network of slots and therefore can offer players the chance to win as much as £12,000 from a single spin.
CASINO GAMING OPTIONS:
Whether you are an amateur or professional poker player, the Les Croupiers Casino is one of the best venues in the country to play. Not only does it allow the seating of up to 200 players – one of the largest capacities in the country but it also regularly hosts cash games and tournaments.

Furthermore, while most casinos concentrate predominantly on Texas Hold'em, here you will be able to enjoy tournaments using other variations of poker such as Omaha, Omaha Hi/Lo, and Stud. The poker room is open from 8 pm from Wednesday to Saturday and from 7 pm on Sunday and you can expect the cash games to have a minimum big blind of £1.
LES CROUPIERS CASINO DRESS CODE
Similar to what you will find with most casinos in the UK, the Les Croupiers Casino has a smart casual dress code. What this means is that you will not be allowed entry if you are wearing any kind of sportswear such as tracksuits or football shirts but will be permitted wearing anything that is semi-smart looking.
T-shirts are fine as long as they do not have an offensive slogan or image, trainers too will be permitted if clean and untorn jeans are allowed too.
FOOD & BEVERAGES
The Dragon Court Chinese Restaurant can be found on the first floor of the Les Croupiers Casino and here you can choose from a whole host of delicious Chinese cuisine. Whether you have a penchant for noodles, curry, chicken balls or any other popular Chinese dish, you will be able to purchase an ample serving of it here. They even deliver for free if you wanted to enjoy their food from home and live nearby.
That restaurant is open from 2 pm to 3 am and reservations can be made by phone if you wanted to guarantee a table. Even if full you do have the option of the bar in the casino which also serves up some lighter meal options and snacks.
That bar which is called the Sky TV Sports Bar is also where you will be able to watch numerous Sky television channels throughout the night across 10 Full HD television screens. Sports is the main request here as you will be able to enjoy full Premier League, Formula 1, boxing and other sporting coverage.
SPECIAL EVENTS
The Les Croupiers Casino does run special events from time to time even if right now there is nothing scheduled. Their poker room, for example, is well known for hosting legs of big poker tours such as the Sky Poker Tour.
As for special offers and discounts, these will usually be found at the restaurant or bar when they are made available but it is difficult to have anything against a casino that will regularly hand out free drinks to its players at the slots and live gaming tables.
LES CROUPIERS CASINO MEMBERSHIP INFO
Membership can be obtained almost instantly at the Les Croupiers Casino but it is not a necessity to be granted admission. Non-members will be somewhat restricted on how much they can spend or cash out at the casino unless they have a form of photographic identification on them.
That spending/cash-out limit is £1,800 and players attempting more will be asked for identification. Obviously, if you already have identification on you, the easiest option would be just to register for membership.
Aside from that, entry requires visitors to be over the age of 18-years old as does becoming a member.
ACCOMMODATION & TRANSPORTATION
There is a massive carpark on site that will give you free parking while you enjoy your time at the casino. Additionally, located close to both the Parc Ninian and Grangetown train stations, you will have no trouble getting to the casino from out of town.
A touch that you do not see from the majority of other casinos in the UK is the fact that Les Croupiers operates a free shuttle bus. It will go and pick up players from a number of locations across the city centre and bring them to the casino or free. It will even come and pick you up directly from your hotel if you give them a call on 029 2038 2810.
As for accommodation in the area, you have plenty of option here too. The Mill Living, Heol Parc Trelai and the Cathedral 73 Hotel & Restaurant are just of the choices that you have locally.
LOCAL ATTRACTIONS
The Cardiff City Football Stadium is one attraction you should go to see particularly because it is so close but you will find that there is so much else to see and do in the city too. Cardiff Castle, Cardiff Bay, and popular museums like the St Fagan's National Museum of History and the National Cardiff Museum are just a few other options.
Here are a few more:
Castell Coch
Caerphilly Castle
Principality Stadium
Wales Millennium Centre
Bute Park
NEARBY CASINOS
The Les Croupiers Casino is far from the only casino in Cardiff even if it is still the oldest and largest around. If you like to cross off visited casinos in much the way football fans like to cross off away grounds, then you will probably want to visit both the Grosvenor Casino and Rainbow Casino in Cardiff.
Both offer a good gambling experience but it has to be said that the Les Croupiers still has them both beat.
CASINO RATING
Les Croupiers Casino, Cardiff - Rating
Summary
With more than 50-years history and still the most popular casino in Cardiff, the Les Croupiers is one of the UK's must-visit casinos. Located directly opposite the ground of one of the country's most successful football clubs and with little touches such as a free shuttle service, free delivery from their Chinese restaurant and free drinks for players, it's easy to see why it still does so well.
That is all on top of a wide array of classic table games to play and electronic slots and roulette machines to enjoy. A super-large poker room is also a big appeal for anyone looking for regular tournaments and cash games.
Pros
Great atmosphere
Friendly and helpful staff
Good service
Nice poker tournaments
Cons
Its website has incorrect info about the poker tournaments sometimes
BASIC INFORMATION
Casino Name: Les Croupiers Casino – Cardiff
Location: Cardiff, UK
Address: Capital Shopping Park, 5b Leckwith Rd, Cardiff CF11 8EG, UK
Phone: +44 292 038 2810
Opening Hours: 2PM – 6AM
Table Games: Yes
Slots: Yes
Dress Code: Smart Casual
Les Croupiers Casino Licensee: Les Croupiers Casino Limited is licensed and regulated by the UK Gambling Commission (See licensee).
THE LES CROUPIERS CASINO IN CARDIFF ON A MAP