Napoleons Casino & Restaurant – Bradford Review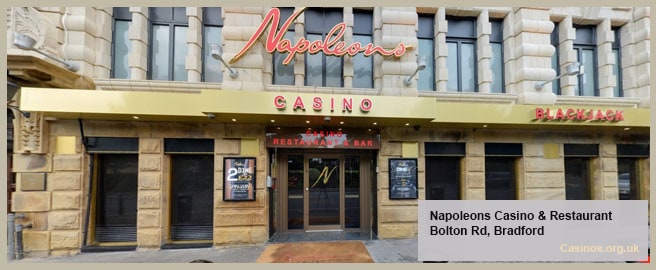 If you are a truly wonderful night out in Bradford, you will not be going wrong by paying a visit to the Napoleons Casino & Restaurant. A fantastic combination of casino action, live entertainment and superb food, you will not find many other places that can compete with the enjoyment experienced here.
As the only casino in Bradford, you can imagine that business is always good and that is certainly the case. On weekends especially, this casino & restaurant is packed with players, diners and others that are just there to enjoy a few drinks and some music.
Located at 37 Bolton Road and open 24/7 throughout the week, you will be able to enjoy table games such as Roulette, Blackjack and 3-Card Poker as well as electronic Roulette terminals, slot machines and a dedicated poker room that serves up regular cash games and tournaments.
NAPOLEONS CASINO & RESTAURANT GAMES
The gaming floor at the Napoleons Casino & Restaurant is far from the biggest that you will see at a casino. All in all, it delivers more than enough in terms of gaming options as you will be able to enjoy 8 live casino gaming tables, 14 slot machines and a selection of 22 state-of-the-art roulette terminals.
CASINO GAMING OPTIONS:

There is also a small poker room at Napoleons Casino & Restaurant which has four tables seating a maximum of ten players on each. This means that if you wanted to take part in their daily cash games from 10 pm or in their tournaments which are held six days a week, it might be best to phone in advance to book yourself a seat.
The official Napoleons website is where you will find the most up to date schedule of their upcoming tournaments across all their casinos in the UK.
NAPOLEONS CASINO & RESTAURANT DRESS CODE
Napoleons Casino & Restaurant in Bradford and at all of their venues, in fact, adopt a smart/casual dress code policy. Football shirts, sportswear, offensive tattoos and caps will be turned away at the door. Trainers and jeans will be allowed in as long as the person looks fairly smart.
It should also be noted that if you are fortunate enough to look 21-years of age or under, you will be asked for proof of age. This is just to ensure that nobody under the age of 18 manages to get inside the casino.
FOOD & BEVERAGES
What really makes the Napoleons Casino & Restaurant a really special night out is their superb restaurant. Seating as many as 120-guests at a time, for some, the restaurant alone is a big reason to come here.
Open from 6 pm for most of the week and at 8 pm on Sundays, guests will be able to enjoy the main menu from the restaurant until 10.30 pm. A late menu is then served afterward until 2.45 am each morning. Both menus are made up primarily of British favourites but when you consider the fantastic quality and even better prices, there really isn't a better restaurant in Bradford right now.
Your menu will, of course, be accompanied by a drinks menu and you will have no trouble finding the wine, spirit, beer or cocktail that is your preference for washing down the tasty food you have been served. Additionally, the bar at the casino is open from 11 am to 4 am and will certainly ensure that you always have the ability to grab your favourite drinks when needed.
SPECIAL EVENTS
Live music and entertainment is something that Napoleons loves to provide for their visitors. Weekends, in particular, are always given an injection of entertainment to help players get in the mood whether that is via live music, comedy acts or karaoke nights.
One special event that they are currently running once a month is that of their Cabaret Dinners. For just £27 per person, you will get a 4-course meal, drink and a £5 gaming chip as well as being able to enjoy the scheduled tribute act. Boy George, Robbie Williams, Cher, Whitney Houston and Amy Winehouse are just some of the musicians that are paid tribute to here and from the reviews, we have read, many of these tribute acts really go down a storm.
NAPOLEONS CASINO & RESTAURANT MEMBERSHIP INFO
Among the benefits of becoming a member to Napoleons include being entered into prize draws, being eligible for members-only promotions and will be able to enjoy unlimited gambling.
By entering the casino as a guest and not a member, you are only limited to spend a total of £1,300 and cash out a maximum of £1,300 unless you have brought valid identification with you.
Becoming a member is completely free and will only require a small amount of your time and your valid photo identification. You will also be able to use this membership at any Napoleon Casino in the UK.
ACCOMMODATION & TRANSPORTATION
For those of you driving to the casino, parking is available directly opposite the casino. As for those of you that are using a bus service, the bus stop on Bolton Road sees most major routes come past and is the best place to get off.
If you are coming into Bradford by train, you will be glad to hear that the Bradford Forster Square train station is literally right around the corner from Napoleons Casino & Restaurant.
The Midland Hotel, premier Inn Bradford Central, Hotel Ibis Budget Bradford and the Great Victoria Hotel are your closest options when it comes to accommodation. Each will probably require a quick taxi ride but are reachable on foot if you do not mind a bit of an extended stroll.
LOCAL ATTRACTIONS
Bradford might not seem the most glamorous of cities in the UK but it does have some hidden charms that are well worth checking out. There is a number of interesting museums such as the Bronte Parsonage Museum, the National Science and Media Museum and the Bradford Industrial Museum.
For a family day out, you could also consider visiting the Ponderosa Zoo or some of the splendid parks on offer such as Wibsy Park, Bradford Manor Park, Harold Park or Northcliffe Park.
The Bradford Police Museum
Ponderosa Zoo
Bradford Cathedral
Lister Park
Bradford Industrial Museum
NEARBY CASINOS
Napoleons Casino & Restaurant is actually the only casino that you will find in Bradford. This is a bit of a coup for Napoleons but they do have some competition not too far away in both Leeds and Huddersfield.
Leeds has its own branch of Napoleons, the Grosvenor Casino in Leeds Westgate and the Victoria Gate Casino while Huddersfield has a Grosvenor Casino as well. These are all further afield but well worth checking out if you wanted to expand your casino experience in the region.
CASINO RATING
Napoleons Casino & Restaurant, Bradford - Rating
Summary
Napoleons Casino & Restaurant might not be able to compete with other casino brands such as Grosvenor and Genting in terms of sheer numbers but they really do put a strong emphasis on providing a solid night all around.
They provide great food, great entertainment and most importantly, a pleasant gaming environment that has more than enough gaming options to keep its clientele happy. For a great night out with your partner or with a group of friends, you won't find much better than the Napoleons Casino & Restaurant in Bradford.
Pros
Great food and drinks
Very friendly and helpful staff
Good atmosphere
Good service
Cons
Bar is expensive
You will have to join unless you are invited as a guest
BASIC INFORMATION
Casino Name: Napoleons Casino & Restaurant, Bradford
Location: Bradford, UK
Address: 37 Bolton Rd, Bradford BD1 4DR, UK
Phone: +44 127 439 1820
Opening Hours: 24 / 7
Table Games: Yes
Slots: Yes
Dress Code: Smart Casual
Napoleons Casino & Restaurant, Bradford Licensee: The A&S Leisure Group is licensed and regulated by the UK Gambling Commission (See licensee).
THE NAPOLEONS CASINO & RESTAURANT IN BRADFORD ON A MAP