Genting Casino – Bolton Review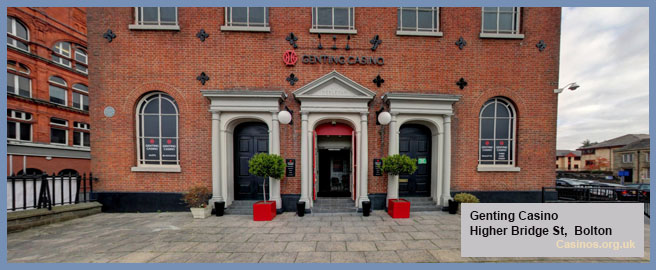 Genting Casino Bolton is located in the center of Bolton City just East of Queen's Park. It is part of the Genting Casino group, which consists of 29 casinos located throughout the United Kingdom, and one of 9 Genting Casinos in the North West. They are open every day of the week from 12 pm until 6 am.
Genting Casino Bolton is a popular attraction for those looking for a wide range of casinos games, special promotions, and entertainment.
Their bar is a great place to go for food and drinks during your visit and there is also a free event room which can be rented out for special functions. However, the biggest attraction is the casino's decent selection of table games and rummy league.
GENTING CASINO BOLTON GAMES
This double floor casino isn't very large but what it lacks in size it makes up for in services. The main floor houses the majority of their gaming options, including 8 table games, an electronic roulette section, and reasonably sized collection of slot machines.
On the second floor, you will find the Genting Casino Bolton Card Room. This is a separate area and is accessible from the lift. It houses the card and other competitions, including their weekly Rummy League.
CASINO GAMING OPTIONS:
American Roulette
Blackjack – Bonus Bets
3 – 5 Multi Win Poker
Electronic Roulette
Rummy

GENTING CASINO – FOUNTAIN PARK DRESS CODE
Guests are only expected to dress semi-casually. Smart jeans with trainers are accepted, however, there are a few items that are not allowed, including football shirts, muscle/vest tops, and any headgear that blocks your face from their CCTV camera.
FOOD & BEVERAGES
On the main floor just past the entrance, you will find the Late Bar. This is the only food and beverage option in the casino and it stays open until 4 am. You can either place your orders directly at the bar or have one of their waiters take your order from the gaming floor. Purchases can be made using cash/card, casino chips, or loyalty points.
The Late Bar specializes in beverages, with their list menu including a wide range of cocktails, various gins and tonics, Italian Prosecco, beers, ciders, and their. If you're looking for food they'll be able to help you with various light meals including hot sandwiches, pizzas, burgers, and chicken strips.
Take note that you are allowed to enjoy your food and drink while gaming, but they may not be placed on the tables. Kindly use the trolley tables provided.
SPECIAL EVENTS
There's always a special event taking place at Genting Casino Bolton. They offer both game and bar events, like their 2 for £7 Magners Cider special. The Slot Masters League and Rummy League are two popular events that will be happening over the months of July and August.
The Slot Masters League is a series of four tournaments with prizes of up to £75 per tournament. The Rummy League consists of £5 buy-ins and a potential to win a £1000 prize pool.
As well as these two monthly events, Genting Casino Bolton offers a Roulette Experience. This package costs £13.95 and includes a welcome drink, a private roulette lesson, and a £20 spin to win vouchers. This is a great way for beginners to learn and enjoy their first casino game.
GENTING CASINO – FOUNTAIN PARK MEMBERSHIP INFO
None of the Genting Casinos require membership and this includes their Bolton casino. If you look older than 25 then you won't be asked for identification, but it's best to come prepared with a valid UK identification in case.
Although you are not required to get a membership, those interested can register to take advantage of faster entry, a loyalty card, and access to their VIP program which offers unique rewards. In order to register you can do so online or at the casino.
ACCOMMODATION & TRANSPORTATION
Getting to Genting Casino Bolton requires you to drive into the center of Bolton. Depending on which side you're entering Bolton from, you will get their fastest by taking the A676, A666, or A579. These roads will get you within a few streets distance from the casino. There is parking available at the casino that is accessible from the back. If you're arriving by train you will have to travel about 6 minutes by car to get to the casino.
The closest accommodation is definitely the Holiday Inn Bolton Centre. This 3-star hotel is located across the street from the casino and has rooms available from £75 a night. Your next best option is the Ideal Home Away in Northern Bolton but it will require a 15-minute cab ride to the casino.
LOCAL ATTRACTIONS
Bolton is a town with a humble beginning, starting as an old mill town, and although it might not live up to the larger cities there is still plenty to see. Whether you want to visit the Turton Tower, the Bolton Central Library, or Smithills Hall, you will enjoy various parts of British history.
Queen's Park
Jumbles Country Park
Smithills Open Farm
Rivington Pike
NEARBY CASINOS
Bolton isn't filled with casinos, but there are 2 other choices with the largest casino being the Grosvenor Casino Bolton, part of the Grosvenor casino chain, and offering their own restaurant. The three Bolton casinos are located quite close to each other with roughly a 5-minute car ride between each of them.
The full list of casinos in Bolton is:
Genting Casino Bolton
Admiral Casino Bolton
GENTING ONLINE CASINO GAMES
The Genting Casino chain offers an online casino experience for their customers as well. This casino can be enjoyed from your browser and allows you to access live casino games, table games, and slots. If you're looking for an alternative to brick-and-mortar gaming then their welcome bonus, various payment options, and high-quality graphics make them a good choice.
Their most played games at the moment are:
Live Roulette From Mayfair
Lightning Roulette
Monopoly Live
Return of Kong Megaways
Valley of the Gods
Speed Roulette
CASINO RATING
Genting Casino Bolton, Higher - Rating
Summary
This Bolton casino has everything you need to satisfy your enjoyment of casino games. Their friendly staff and a wide collection of games and events make it the perfect environment. As one of the best casinos in Bolton, Genting Casino should be your first choice when coming to the city.
Pros
Friendly and helpful staff
Pleasant atmosphere
Food and drinks available at reasonable prices
Cons
No poker
People always watching behind
BASIC INFORMATION
Casino Name: Genting Casino Bolton
Location: Bolton, UK
Address: Higher Bridge St, Bolton BL1 2HA, UK
Phone: +44 120 438 1811
Opening Hours: 12pm – 6am
Table Games: Yes
Slots: Yes
Dress Code: Smart Casual
Genting Casinos Licensee: Genting Casinos UK Limited is licensed and regulated by the UK Gambling Commission (See licensee).
THE GENTING CASIN0 IN BOLTON ON A MAP