Century Casino Bath Review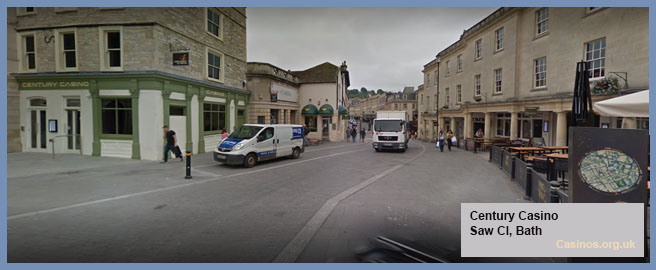 The Century Casino is a brand-new casino in Bath that first opened its doors on the 25th of May in 2018. Set across three floors, this luxurious casino can be found in Saw Close and is the only casino in the city.
Providing visitors with a whole host of gaming options such as table games, slot machines, electronic roulette tables and a poker room, this modern casino is open from 12 pm to 6 am all week. The table games do not start up until 4 pm during the week or 12 pm on the weekends so keep that in mind if you're planning a visit.
Being a part of mixed-use development, the Century Casino is also joined by two restaurants and a hotel that are within a stone's throw away.
CENTURY CASINO BATH GAMES

The Century Casino in Bath is 15,000 square feet in size and is spanned over three floors. Each of the floors has its own gaming area although the third floor is the Beau Nash Suite which is for private gaming and special events.
Blackjack, Roulette, 3-Card Poker and Punto Banco are the table games on offer in the Century Casino while you're also spoilt for choice with a combination of 60 slot and electronic roulette machines.
The poker room is large enough to seat 20 players which is more than enough for a couple of cash games to be run. The minimum buy-in is £50 and the maximum £500 and the blinds are £0.50/£1 while the table rake is 5%. This poker room is usually open on Tuesdays and Wednesdays only between 7 pm to 5 am but it does open up on other days from time to time.
CASINO GAMING OPTIONS:
36 slot machines
18 table games
24 electronic gaming terminals
Poker Room Which Seats 20 Players
Limits for the table games at Century Casino will vary from table to table so it is important to check with the dealer or croupier before you attempt to play. Furthermore, those dealers and croupiers will also be able to help you to learn and understand the rules to the game if you're something of a beginner.
CENTURY CASINO BATH DRESS CODE
The dress code at the Century Casino is not all that strict at all. Even smart looking shorts are allowed as part of their smart/smart casual dress code. Offensive slogans or tattoos will not be permitted and neither will caps, hats or backpacks.
FOOD & BEVERAGES
Whether for a little break from the casino floor or as a night out on its own, the bar in the Century Casino is the perfect location. Serving up everything from local beers and ciders, fine wines and aged spirits, this is a great place to chill out, unwind and get socialising with some of the other guests.
Small plates, burgers and snacks are also readily available from the bar if you start to feel peckish. However, don't forget that if you wanted something a little more substantial to eat, you have the Zizzi Restaurant nearby that serves up a plethora of Italian cuisine.
SPECIAL EVENTS
Group bookings, special events or a bit of private gaming can be enjoyed in the Beau Nash Suite on the top floor of the casino. Complete with a balcony, this suite can be booked either via the casino itself or via its website.
CENTURY CASINO BATH MEMBERSHIP INFO
If you wanted to become a member of the Century Club Casino, all you will need to bring is ID. A Passport, driving license or another national ID card will suffice and within a few minutes, you will be able to reap the rewards of your memberships.
This will include complimentary free coffee, tea and soft drinks whenever you visit the casino, discounts on food and beverages and of course, the ability to start earning redeemable reward points.
Membership is not required to enter the casino but you may need to bring identification anyway if you look younger than 21-years of age. The minimum age for entry is 18-years old but they will check anyone around that age just to be sure.
ACCOMMODATION & TRANSPORTATION
Reaching the Century Casino in Bath can be done within 10-minutes' walk from the Bath Spa train station. Additionally, within a minute's walk from the casino is the bus stop at Westgate Buildings which sees two major routes pass by it.
The Z Hotel, a 4-star hotel with 147 rooms, is a part of the same development as the casino and therefore would be the most convenient accommodation if required. You do have a number of other options that are a little further afield such as the Francis Hotel.
LOCAL ATTRACTIONS
Bath is the largest city in Somerset and is famed for its medieval history and its roman period Baths. If you love architecture you will love this place as you can take in the wonderful Bath Abbey, Pulteney Bridge, The Circus and the Royal Crescent.
There is a good number of museums in the city too such as the Holbourne Museum, Fashion Museum, the Jane Austen Centre and the Museum of Bath Architecture.
The Roman Baths Museum
Bath Abbey
Pulteney Bridge
The Jane Austen Centre
NEARBY CASINOS
The Century Casino is actually the only casino that you will find in Bath. This is great for the casino as it means no competition but for players, this might be a little disappointing. That said, if you're prepared to make your way to Bristol, which is a 45-minute drive by car or a 27-minute journey on the train, you will find three casinos to visit. Those are the Grosvenor Casino Bristol, Genting Casino Bristol and the Rainbow Casino Bristol.
CASINO RATING
Century Casino Bath Saw CI Ratings
Summary
As the only casino in Bath, it is not like you have an abundance of choice when it comes to casinos but even if you did, we are pretty sure that the Centruy Casino would be your best option. New, clean, big in size, a heap of gaming options and with all of the amenities that you will ever need. Certainly, worth a look whether you live in or a visiting the city of Bath.
Pros
Has 4.0 Google User Star Rating
Friendly Staff
Good drinks
Decent surroundings
Cons
Requires Photo ID to enter
Does not accept non-UK photo ID
BASIC INFORMATION
Casino Name: Century Casino Bath
Location: Bath, UK
Address: Saw Cl, Bath BA1 1EY, UK
Phone: +44 122 530 8990
Opening Hours: 1pm – 4am
Table Games: Yes
Slots: Yes
Dress Code: Smart / Smart Casual
Century Casino in Bath Licensee: Century Casino Bath Limited is licensed and regulated by the UK Gambling Commission (See licensee).
THE CENTURY CASINO IN BATH ON A MAP