Rainbow Casino Aberdeen
RAINBOW CASINO ABERDEEN REVIEW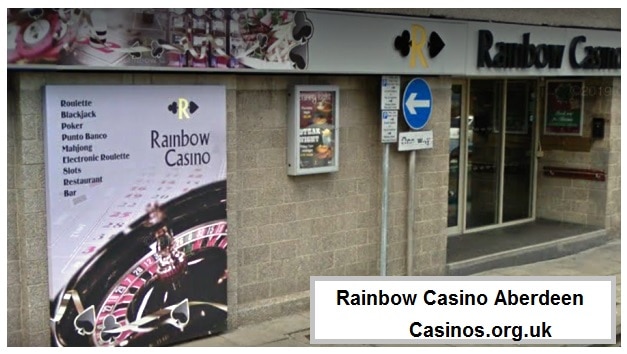 You have two solid options if you wanted to enjoy a casino experience in Aberdeen and the Rainbow Casino at 59 Summer Street in the city, is certainly worth checking out. Previously known as Gala Casino, it was acquired and added to the Rainbow brand back in 2013.
Open between the hours of 3 pm and 5 am on a seven day a week basis the Rainbow Casino can be described as medium in size, containing a good amount of tables and gaming machines, a restaurant, bar and a dedicated poker room.
Perfect for a few hours of gambling or for a complete night out that includes eating and drinking, the Rainbow Casino in Aberdeen is always popular with punters. Throw in regular poker games and tournaments and you really do have a quality all-rounder when it comes to casinos in the city.
RAINBOW CASINO ABERDEEN GAMES
The gaming floor at the Rainbow Casino Aberdeen is far from the biggest when compared to other casinos but the layout ensures that you're able to enjoy a variety of gaming options.
There are eleven gaming tables in total and these can be found in the centre of the floor. Those tables will allow you to enjoy Blackjack, Roulette and 3-Card Poker at low to medium betting ranges. The slot machines and electronic roulette machines can be found in two corners of the floor at the back and these will allow you betting limits of between 50p and £100 per spin.

A dedicated poker room will bring you tournaments and cash games in the evenings from Wednesday to Sunday. The buy-ins for the tournament will range between £20 to £30 while the cash games will allow you to buy-in for a minimum of £25 with the blinds being set at £1/£2.
CASINO GAMING OPTIONS:
5 Blackjack Tables (£1 – £1000)
5 Roulette Tables (50p – £100)
3-Card Poker Table (£2 – £100)
19 Slot Machines
Poker Tournaments
Cash Tables for Poker
If you looking for the best UK Online Casinos you can see a list Here
The staff at Rainbow Casino are usually very approachable and always happy to help. They will have no problem explaining and helping you with any game rules should you need it. Also, the atmosphere here is generally quite lively, especially on the weekends as it seems to be a popular place to enjoy a night out as well as being a casino.
RAINBOW CASINO ABERDEEN DRESS CODE
There is a smart/casual dress code for the Rainbow Casino in Aberdeen which is fairly relaxed but they will turn people away that do not look presentable. Sportswear and caps will not be permitted but you will be allowed to wear jeans and T-shirts as long as they are clean and presentable.
FOOD & BEVERAGES
When you start to feel peckish, there is a good little restaurant in the casino that will serve up a diverse range of dishes. Whether you like grilled foods, burgers, curries, pies, salads, soups or grilled fish, you will have plenty of options on the menu to quash your hunger.
Open from 7 pm to 11 pm, that restaurant also serves up a delicious menu of desserts and has a good selection of alcoholic and non-alcoholic beverages that you can use to wash down your food.
The Late Bar is also worth a look if you're just after some light snacks and a few drinks. Here you can also enjoy the latest sporting action with your mates or sip on some splendid cocktails as you socialise with the other guests.
SPECIAL EVENTS
The Rainbow Casino has put together a number of party packages that could be ideal for all types of special occasions. Want to enjoy a birthday party with a difference or a potentially lucrative stag do? Then they will have a package that will no doubt suit you to the ground.
The Roulette or Poker Experience packages are designed for groups of beginners that want to learn more about the games in question while having a great time. As for those of you that want a package that provides a meal, free drinks and some gaming vouchers, the Rainbow Package might be more up your street.
The group party packages are the best for parties or special occasions as with these you will even get your own designated VIP area among a bunch of other benefits.
RAINBOW CASINO ABERDEEN CASINO MEMBERSHIP INFO
Membership is not a requirement when you enter any Rainbow Casino but with more than £90 in vouchers being given to all new members, it would be a little foolish to miss out. Those vouchers can be used in the casino, bar and restaurant but not in one go, instead, they can be used in subsequent visits to the casino in the future.
Signing up for membership is easy. Simply fill out the form online at their website and then bring identification with you to finish the application when at the casino.
Rainbow Casino is open to anyone that is 18-years or older but they do adopt a 'Think 25' policy. This means that you really should bring some identification with you if you look 25 or younger.
ACCOMMODATION & TRANSPORTATION
Located right in the centre of Aberdeen, traveling to the Rainbow Casino will not be an issue for many of you. The train station is about 15 minutes away by foot and each of the main bus routes will stop close by on Union Street.
If you're flying into the city, the Rainbow Casino can be reached by road in a no time at all as it is just eight miles away. Ample parking is also available nearby with the Chapel Street car park being your best option at just a couple of minutes walk away.
Accommodation should not be a problem either as there are numerous hotels within walking distance to the casino. The closest and most convenient would be the Travelodge on Justice Mill Lane.
LOCAL ATTRACTIONS
Have a bit more time on your hands and are looking for something else to do on your visit to Aberdeen? Then you will find that there is plenty of attractions that you can visit in between your sessions at the Rainbow Casino.
For those of you that love historic architecture, you have the King's College Chapel, St Machar's Cathedral, the Brig o' Balgownie and the Kirk of St Nicholas to admire in the city. You will also find a number of museums to visit such as the Marichal Museum, the Aberdeen Maritime Museum and the Gordon Highlanders Museum.
Here are just some of the more popular tourist attractions in Aberdeen:
Duthie Park
Aberdeen Maritime Museum
Kings College Chapel
NEARBY CASINOS
While Aberdeen cannot compete with many other major cities in the UK in terms of the number of casinos it has, your enjoyment does not have to start and end with the Rainbow Casino. In fact, you will find the Grosvenor Casino which is not too far away on Exchequer Row. There you can enjoy 10 gaming tables and an impressive collection of 50 electronic games such as slots and roulette.
Also, the Grosvenor Casino in Dundee is not all that far away and this is another good quality casino that we suggest visiting if you're in the area.
Grosvenor Casino Aberdeen
Grosvenor Casino Dundee
CASINO RATING
Rainbow Casino Aberdeen Ratings
Summary
Top Quality Gambling Experience in Aberdeen. The Rainbow Casino in Aberdeen is more than just a place to go to enjoy the gaming of your choice and is actually a fantastic all-round experience. The restaurant and Late Bar serves up plenty of entertainment and top-class food and the casino floor has just about everything that you could possibly ask for in terms of gaming options.
The poker tournaments, in particular, are popular here and we suggest you try your luck to see if you can get your hands on some of the guaranteed prize pools on offer.
Pros
Has a Nice 4.1 Google Users Star Rating
Very Friendly and Helpful Staff
Nice Atmosphere, and many visitors in the weekends.
Cons
Could Have Some More Slot Machines
BASIC INFORMATION
Casino Name: Rainbow Casino Aberdeen
Location: Aberdeen, UK
Address: 59 Summer Street, Aberdeen, AB10 1SJ
Phone: 01224 645273 
E-mail: aberdeen.info@rainbowcasino.co.uk
Table Games: Yes
Slots: Yes
Dress Code: Smart Casual & Relaxed
Opening Hours:
Sunday to Friday  3pm–5am
Saturday 3pm–7am
Rainbow Casino Gambling Licensee:  Broadway Casino is licensed and regulated by the UK Gambling Commission (See licensee).
Casino on a Map