Cunard Cruises Casino – Queen Victoria Review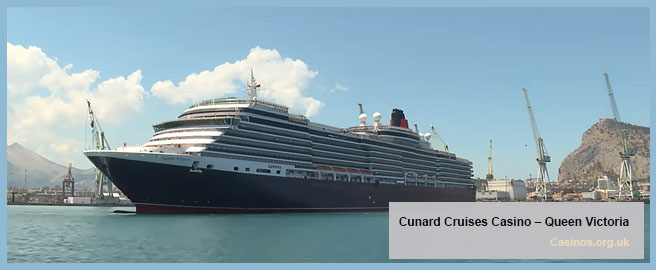 A unique gaming experience can be expected at Cunard Cruises Casino aboard the Queen Victoria. This casino is located on one of the world's finest cruises, owned by Cunard Cruises. Queen Victoria and the other Cunard cruise ships all offer top quality trips to locations all around the world. While travelling, many people want to enjoy some casino action, which is why they offer their top-class casino.
The casino is located on the second deck of this large, 12 deck, cruise ship. If you travel towards the front of the ship you'll find the casino just before the royal court theatre. This casino only opens on cruises outside the UK territorial waters and they will only do so once they have reached international waters – approximately 45 minutes after departure. The casino will, therefore, not open on any cruises from one UK destination to another, so keep this in mind when booking your next trip.
CUNARD CRUISES CASINO – QUEEN VICTORIA GAMES
Although casinos on cruise ships are generally small and overcrowded with few table games, the Queen Victoria takes their casino gaming area up a notch by taking up quite a large section of the second floor. You'll find all your favourite table and electronic games, including roulette, poker, and blackjack, as well as plenty of slot machines. You also won't have to worry about inferior service, all the croupiers on board the Queen Victoria are trained and experienced.
CASINO GAMING OPTIONS:
American Roulette
Ultimate Texas Hold 'em

CUNARD CRUISES CASINO – QUEEN VICTORIA DRESS CODE
You won't have to dress up specially to go to the Queen Victoria's casino, but you will have to change out of your swimming clothes. Queen Victoria does not have a specific dress code, rather they have a specific list of items that are not allowed to be worn in their casinos. Guests wearing their swimming clothes, nightgowns, or bathrobes will not be permitted into the casino until they change.
FOOD & BEVERAGES
Every deck that you visit on the Queen Victoria is filled with places to eat, drink, and relax. While visiting the casino you won't have to travel far, the nearest bar is adjacent to the casino. The Golden Lion is one of the highlights on this deck and a popular location for both casino goers and other guests. Here you'll be able to get something to drink from their fully-stocked bar as well as getting a light meal from their all-day menu.
If you begin to work up an appetite you'll have to travel to one of the nearby restaurants to get something more filling. On the second floor, there are two dining options: the Verandah Restaurant and Britannia restaurant. Both of these are great choices with the Britannia Restaurant offering a more laid back dining experience compared to the classy Verandah Restaurant where you'll be able to sample some of the most unique food dishes on the ship.
If you're looking for a change of scenery why not try the Lido Restaurant on deck 9. This is an open-air deck with various indoor sections, including this restaurant. This is a great restaurant to visit for more casual dining and buffet options.
SPECIAL EVENTS
Every day you'll find something special happening on the Queen Victoria. Apart from the many facilities that you can visit, they have a time table listing all of the live music, theatre performances, gaming events. There are also wine experiences and gin & fizz evenings.
ACCOMMODATION & TRANSPORTATION
Before you figure out how to get to the Queen Victoria you have to choose a cruise. There are many voyages to choose from and you can book up to 2 years in advance. Where ever your cruise departs from, that is where you will meet the ship. Some times the ship leaves from Southampton and other UK port cities, while other times it might leave from Europe, Africa, or even Asia.
Accommodation is plentiful with the ship accommodating over 2,000 guests. There are 6 accommodation options to choose from, each offering different levels of luxury. The most basic cabins available are the Britannia Inside, but the word 'basic' doesn't do these rooms justice. Even these rooms are exceptional with comfortable beds, your own bathroom, and a mini-bar – you'll feel like you're in a luxury hotel. If we go to the most luxurious option, the Queens Suit is a very large cabin with its own balcony, luxury bathroom, dressing area, and king-sized bed. Comfort is the number one priority with this option and your personal butler and concierge will satisfy your every request.
LOCAL ATTRACTIONS
There are so many different amenities on this ship that it'd be impossible to list them all. Some of the most notable attractions are available on the upper decks which include the swimming pools, spa, Jacuzzis, and fitness centre.
The third deck is also a great place to visit for indoors experiences such as a shopping spree at their Royal Arcade, a quiet place to read in their library, and a visit to their art gallery.
CASINO RATING
Cunard Cruises Casino – Queen Victoria
Summary
Queen Victoria is one of the world's finest cruise ships and they made sure to put out all the stops – including their top-class casino. With all the table games you could need as well as a decent collection of slot machines, this casino has everything you'll need to keep yourself entertained on your holiday.
Pros
Very friendly and helpful staff
Good service
Good food and drinks
Cons
Casino closes when the manager decides so
BASIC INFORMATION
Casino Name: Cunard Cruises Casino – Queen Victoria
Location: Cunard Cruises, Queen Victoria
Address: Cunard Cruises, Ocean Rd,Southampton, England, SO14 3FU, UK
Phone: +0344 338 8641
Table Games: Yes
Slots: Yes
Dress Code: Casual
THE CUNARD CRUISES CASINO QUEEN VICTORIA ON A MAP