Netent Just Launched Fantasini Master of Mystery Slot Machine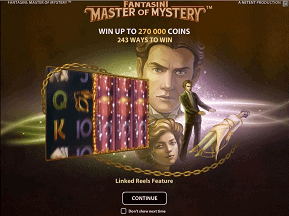 Fantasini Master of Mystery, is a new slot from the good folk at Net Entertainment. The Swedish company are one of the biggest in the world of online slots. Net Entertainment are an innovative company.
Their games are renowned for quality graphics, and animation. They, are one of the largest online slots developers. Their European online casino market share, is approximately 31%. The game is themed around the mystery of stage magic. It brings a performance of sleight of hand and illusion to the reels.
What we like
We like the Linking Reels feature in this game. Any two reels, adjacent to one another, can be linked together and will show the same symbol. This will happen each and every turn. The Linking Reels feature will also expand to include more reels during the spin.
The feature can include up to all of the reels but three reels and four reels are also possible. We hope that makes sense, essentially what we are trying to say is that, this feature will start linking two reels and it can expand, to include more.
This feature gifts you big wins, and if you start with a decent bankroll it will never deplete too far before the Linking Reels feature, links all five reels and wins you enough to keep playing. We like the look of this game. We feel like a broken record, but Net Entertainment really do make the best looking game.
This game has used colours and space perfectly to build on the theme and give you a game, which not only plays great but looks great. We like the 243 paylines in this one. That is a lot of paylines, and it really takes the guess work out what is and is not a win.
If the symbols appear in something resembling a pattern on the reels chances are it is a win. The game has a magical jackpot.  Net Entertainment were happy to boast about it and chose to display in on the top of the interface. Fantasini Master of Mystery has an impressive 270,000 coins waiting to be won.
We are not entirely sure how this is won but guess it is by linking all five reels together and getting the three highest five in row wins. The Magician Symbol is also wild, and it will substitute any symbol in the game to make the highest available winning payline.
What We Don't Like
The game could use a few more features. The Linking Reels feature happens on every spin but it is all this game really has to offer. It would be nice, had there been something else to break up base gameplay.
Even including free spins, would have probably shut us up, because we love our free spins. Apart from that there is not much, we can complain about. This is a great game.
Is this game worth playing?
This is another quality title from Net Entertainment. The graphics, theme and aesthetics are all superb. It is probably, one or two features away from perfection.
The Linking Reels feature is a great feature, both for assisting with wins and just giving them to you. We found this game really stretched our bankroll. After a few hours of playing it we were more or less where we started. We recommend this game and think that most players will enjoy it.
>> Play This Slot Now & With $/£/€ 200 Bonus +10 Free Spins <<