Let greed feed you whilst you try Play 'n Go's latest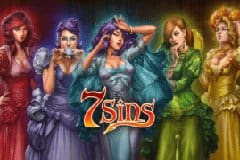 You'll no doubt have seen the film Seven before. It was rather shocking and immensely powerful, right?
Well, it may not have the horror of that famous film, but Play 'n Go's own take on the seven deadly sins is certainly powerful, too.
The new 7 Sins slot is being released on November 24, and it is set to be a really seductive, alluring, and attractive video slot. Here's the low-down on the latest game to arise from Play 'n Go's new slot library.
Are you familiar with the seven deadly sins? Lust, Gluttony, Greed, Sloth, Wrath, Envy, and Pride are their names.
Whilst the Christian world views them as vices, this slot portrays them as gorgeous ladies, eager to lure you in. It is a nice touch and not one we're too familiar with in other media. This all makes the 7 Sins slot ever so original.
It isn't just the basic theme which is impressive in this game. The imagery is colourful, it is well-drawn, and the audio is pretty decent, too. Of course, every slot has its hiccups, and 7 Sins is not perfect in that regard. We'll come that shortly, though. Firstly, let's tell you about what we love.
What we love
Wagering is a doddle in this slot. Given that there are 243 paylines, you could never hope to wager on them individually. So, a simple wagering button can see you bet between $0.20 and $100 a pop on this game in no time at all. A minimum bet of $0.20 for 243 paylines is a steal.
There are also two wild symbols present in this slot machine game. One of them is a plain and dull wild, but the other can become a split symbol, allowing you to bag wins with 7-of-a-kind combinations. Big wins are very much possible in this slot – if you're lucky.
The free spins feature in this slot is pretty awesome, too. Players can expect to bag a total of 7 spins, with a multiplier increasing on every spin you make. More to the point, each one of the sins will become an expanding symbol on individual spins in the bonus. We must continue to praise Play 'n Go for their originality here.
What we do not like
As we've said, 7 Sins doesn't have everything its own way. In virtually all areas it is a slot which really does its developers a lot of credit. It is enjoyable, it is fresh, and it is quite rewarding. However, there is a small issue with the number of symbols present on the reels of this slot.
As a general rule of thumb, the more symbols you have on the reels of a slot, the less chance you have of winning.
This slot contains 11 standard paying symbols in total (7 sin icons and 4 playing card suits), and that doesn't include the 2 wilds, and scatter symbol. There can be a lot of traffic on the reels of this game, and that can (and will) prevent you from winning too often.
Worth playing?
Despite a few hiccups, this is a slot that is well worth playing. You might even say that they'll be other developers envious of what Play 'n Go has developed.
When it is launched on November 24, we predict that they'll be plenty of gluttonous and greedy players out there willing to give this slot a go.
>> Play This Slot Now & With $/£/€ 200 Bonus +10 Free Spins <<