King Kong Cash swings into online casinos…again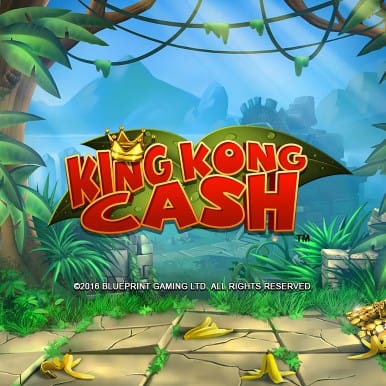 This week has seen the release of a brand new video slot, known as King Kong Cash. Except, not really.
Blueprint Gaming actually released this game back in the summer, although it was a timed but exclusive launch at only a handful of casinos.
Now, they are causing a fuss because the slot has been released (or re-released, depending on how you look at it) at many more casino sites.
Is King Kong Cash worth getting excited about; again? Yes, and no. On the one hand, this is one of the best bonus-laden slots ever developed by Blueprint Gaming. On the other, it is boring, dull, and barely has anything to do with the giant ape we all know and love. Which matters most to you?
Realism and theme or cash and bonuses? The chances are good that the side of the argument you fall on will determine what this slot means to you.
What we love
We only have to say this once – 10 bonuses. Okay, we do want to say that again – there are ten bonuses. A total of 5 randomly triggered in-play bonuses can see your next base game spin pocket wilds, multipliers, instant cash prizes, respins and much more.
Then there are 5 bonuses which are triggered by scatters. They include 2 awesome free spin features, as well as 3 instant win cash prize games. You won't know what you've got until it begins, so there's an element of the mysterious about the slot, too.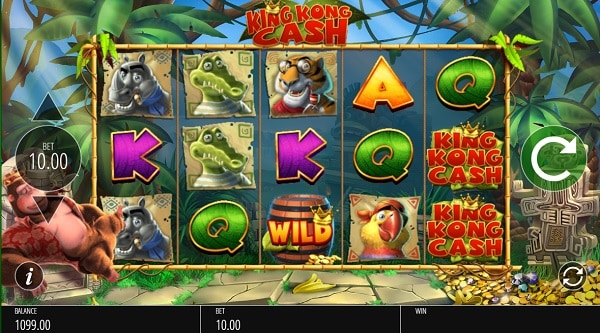 King Kong Cash also comes equipped with a nice selection of King Kong Cash logo symbols. These can appear stacked and are the best-paying symbols in the game. Land a tonne of these on the reels (coupled with those wilds and multipliers) and you're golden. As we've said, if you love features, King Kong Cash reigns supreme.
What we do not like
The theme is a bit rubbish really. Yes, Kong is in the title. However, he seems to spend most of the game sleeping over a big dose of bananas by the side of the reels. He only gets up off his keister to offer you randomly triggered features, and they don't occur very often.
Instead of Kong, the reels are filled with crocodiles, rhinos, lions and other animals with human-esque faces. It is strange to call this slot King Kong Cash – it might as well be Donkey Kong Cash as far as its theme is concerned.
We're failing to see too many similarities between the famous 1930s character, and this ape. If you're an avid Kong fan, this won't be your cup of tea.
Worth playing?
Once again, it depends on your point of view. If you want a proper Kong slot, then you're not going to be won over by this cute and cuddly, child-friendly title.
However, if you don't care too much about that, and simply want special features and plenty of them, then King Kong Cash will be happily swinging into your favourite casinos soon, as long as they carry Blueprint Gaming software.
>> Play This Slot Now & With $/£/€ 200 Bonus +10 Free Spins <<