Down a lot of this dizzying new Thunderkick slot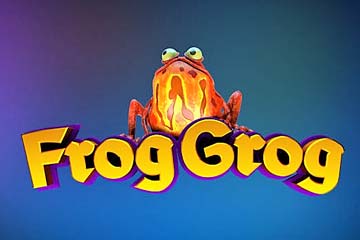 Thunderkick has come up with a real cracker this month. Halloween is upon us, and what better way to celebrate than by releasing a slot which can fit nicely into that Halloween genre.
Don't make the mistake of thinking that Thunderkick's new Frog Grog slot is all witches, werewolves, vampire and zombies, though. There is much more to it than, that. For starters, there isn't a pumpkin in sight.
Frog Grog has been designed as a 5-reel, 23-line slot which can stand on its own away from Halloween if need be. Sure, there are potions and bubbling cauldrons, bats and spell books aplenty, but that doesn't necessarily make it exclusively playable at Halloween.
On the contrary, the slot has been designed in a way that it will still be appealing no matter what time of the year it is. On top of that, it is beautifully designed and generous enough with its winnings.
What we love
The look and feel of Frog Grog are pretty sublime. It contains gorgeous imagery as both backdrops, and reel structures. Players can find jars and vials of potions as symbols on the reels, which are themselves represented by shelves of spells.
A spellbook offers multipliers, and a bubbling cauldron adds dramatic effect in this slot. Lest we forget that there is also a drunken frog who has had too much grog, and will burp wilds into various spots on the reels with comedic effect.
The slot also contains a tumbling reels (rolling reels, avalanche reels, or whatever term you prefer) feature, which can see players pocket multipliers worth up to 7x for consecutive wins, with all winning symbols disappearing from the reels and being replaced with new ones.
A special Mystery Feature can also remove all low-paying icons from the reels and leave just the big-paying ones. Score, right?
What we do not like
Truth be told, there isn't actually a whole lot not to like about this slot. If we're really picky, we're a bit gutted with the wagering menu. The whole slot has a thematic look to it, with the reels and multipliers as we've said being represented by bookcases, and spell books.
Imagine the disappointment when you see the wagering menu then. By contrast it is quite poor, and not remotely designed in the theme of the rest of the slot. Even so, this is piddly stuff and doesn't detract from a solid gaming experience too much at all.
Worth playing?
The developers of this game have released plenty of new slots this year. In fact, Thunderkick has been a bit hit and miss with them. This one is definitely a hit, though.
Actually, we'd even go as far as saying that Frog Grog is the definitive Thunderkick slot machine game this year. Pop along to a casino offering Thunderkick software, and give it a run for its money. We are reasonably sure that you won't be disappointed with what it offers.
>> Play This Slot Now & With $/£/€ 200 Bonus +10 Free Spins <<