Casino 36 – Wolverhampton Review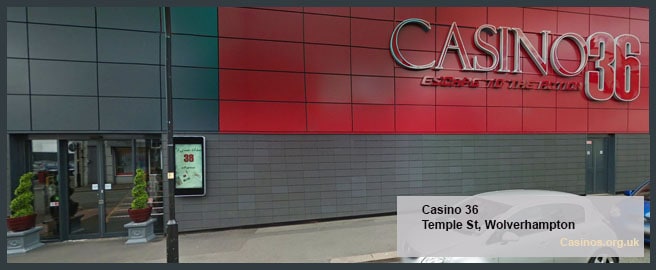 Previously the Rubicon Casino, Casino 36 is the result of a change of ownership and a massive £7.6 million refurbishment. One of just a few 'super' casinos in the UK, Casino 36 is open 24/7 and can be found on Temple Street in Wolverhampton.
There is not much to say about this casino except that it is huge, modern, full of friendly staff and always has a fun and lively atmosphere. You will also be able to enjoy numerous gaming options such as Roulette, Blackjack, Three Card Poker, Punto Banco table games and a plethora of slot machines and electronic roulette machines.
A Sports Bar and Grill is also on hand to keep you full of food and drink while it will also be a great place to relax, socialise and enjoy a wide range of live sporting events that are shown on massive high definition television screens.
CASINO 36 – WOLVERHAMPTON GAMES
As a guest, you will be awe of the size of the gaming floor at Casino 36. It is gigantic, very spacious and is able to provide you with a staggering 24 classic gaming tables which include American Roulette, Blackjack, Three Card Poker and Punto Banco. Additionally, there are 80 gaming machines found on the floor with those being a combination of slot machines and electronic gaming terminals.
If you are new to casinos are struggling to understand the rules of any of the games, the helpful Casino 36 staff are always on hand to assist you. Slots might even be your best option as they require no skill to play and whether you win or not will come down to luck. Also, with local machine jackpots of £10,000 and progressive jackpots of £20,000 on offer, these are well worth playing anyway.
Casino 36 even has its own in-house bookmakers which means that you can place bets on the outcome of a variety of different sporting events.
CASINO GAMING OPTIONS:
The only downside to Casino 36 in Wolverhampton is the lack of poker. Surprisingly, despite the size of the casino, they have decided against incorporating a dedicated card room, so if you love nothing more than a poker tournament or playing for cash at the tables, you will not be able to do so here.

That said, you will find plenty of other casinos not too far off in Birmingham that will be able to quench your cravings for poker.
CASINO 36 DRESS CODE
Smart and casual is the official dress code for Casino 36 and they are pretty strict about it. If you do not make any kind of effort, you will not be allowed in. Vests, dirty work clothes, caps and hats, in particular, are articles of clothing that could see you refused entry. Dress up smartly, you are going to a casino, not a pub.
FOOD & BEVERAGES
We all need to eat, even when we're winning and when that time comes, you will want to have a bite to eat in the Sports Bar & Grill at Casino 36. Open 24/7 just like the casino, you can enjoy a wide range of delicious meals, snacks and a fully-stocked bar that will help you to wash them down.
Steak and Curry nights are regular occurrences in the bar while you should always keep your eye out for special deals and promotions too. In fact, they have a different special each and every day.
Want to catch the latest Premier League match live and on a big screen? How about the latest boxing bout, Formula 1 race or cricket match? This can also be done in the Sports Bar & Grill as there are numerous screens scattered around that you can take in while knocking back your favourite drink.
SPECIAL EVENTS
Casino 36 is never slow when it comes to dishing out promotions and bonuses to its guests. They regularly offer two for one deals on drinks and dishes in the restaurant and are always running some kind of prize draw, slot tournament or some other kind of event. All visitors even get unlimited free tea and coffee upon request at the casino.
As for entertainment, you can expect regular comedy nights and live bands while they always organise special parties at Christmas and New Year. You can even arrange your own birthday parties, office parties and stag do's at Casino 36. This is done via group packages that will include drinks, meals and tutorial lessons for larger groups of you that want to experience a casino for the first time.
CASINO 36 MEMBERSHIP INFO
While the majority of casinos in the UK do not require membership to enter, the Casino 36 in Wolverhampton is not one of them. Membership will have to be registered for and obtained before you will be permitted to enter.
Membership is free and it will not take too long, so simply bring your photo-identification along with you when visiting and within minutes you will be able to enjoy what the casino has to offer. You can even speed up the process by filling out the online form on their website before visiting so that they already have your details and just need to see your ID.
ACCOMMODATION & TRANSPORTATION
Guests can enjoy 24-hours a day free parking at the casino while an NCP car park is not too far away should the casino's car park be full. You will have to pay for parking in the NCP car park but the casino will validate that for you if you show them the receipt.
Coming by public transport is also a breeze at Casino 36 as you are just a mile away from the Wolverhampton train station and there are two bus stops on Temple Street close to the casino.
The Hotel Novotel, the Britannia Hotel and the Barons Court Hotel are just three options that you have when it comes to accommodation. There are seven hotels in total in Wolverhampton, so you should have no problems finding a place if you wanted to stopover for the night.
LOCAL ATTRACTIONS
If you wanted to enjoy a few of the delights on offer in Wolverhampton while in town, you will be pleasantly surprised by what there is to see and do. If we were to suggest any off the top of our heads, it would be to go and take in some of the following:
Wolverhampton Art Gallery
Baggeridge Country Park
Royal Air Force Museum
Dudley Canal
Wild Zoological Park
NEARBY CASINOS
Casino 36 is actually the only casino in Wolverhampton right now but judging by the size of it, is there really any need for any more? Of course, players like to experience new casinos and this can be done by making the short journey to Birmingham where you will be able to experience eight other casinos.
Genting Casino – Chinatown Birmingham
Genting Casino – Edgbaston Birmingham
Genting Casino – Star City
Grosvenor Casino – Birmingham Broad Street
Rainbow Casino – Birmingham
CASINO RATING
Casino 36, Wolverhampton - Rating
Summary
You pretty much have everything that you could ask for from a casino at Casino 36 in Wolverhampton. That is of course, apart from a poker room. It is absolutely huge, has dozens of gaming tables and countless more slots and gaming machines. A good quality Sports Bar & Grill allows you to refuel and relax while you are can even place a few bets on live sporting events.
If you want to experience casinos in the UK, this should be one of the first to cross off your list.
Pros
Very helpful and friendly staff
Good atmosphere
Good service
Good food
Good parking
BASIC INFORMATION
Casino Name: Casino 36 – Wolverhampton
Location: Wolverhampton, UK
Address: City Centre, 56-58 Temple St, Wolverhampton WV2 4AQ, UK
Phone: +44 190 271 0700
Opening Hours: 24 / 7
Table Games: Yes
Slots: Yes
Dress Code: Smart Casual
Casino 36 in Wolverhampton Licensee: Casino 36 Limited is licensed and regulated by the UK Gambling Commission (See licensee).
THE CASINO 36 IN WOLVERHAMPTON ON A MAP