Grosvenor Casino Reading Central Review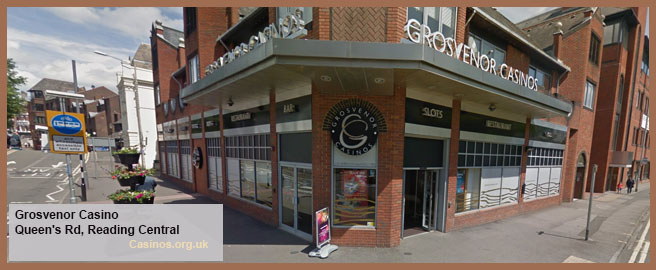 Grosvenor Casino Reading Central is one of two Grosvenor Casinos in Reading. It is located close to The Oracle and is one of the main casinos in the area. They offer plenty of games as well as food and drink facilities. Grosvenor One membership is available here, but not required.
The casino is open 24 hours a day and there's plenty of parking in the surrounding area to drive here with your own car. This is a great casino to visit when coming to one of the country's top ten shopping destination.
GROSVENOR CASINO – READING CENTRAL GAMES
Grosvenor Casino Reading Centrals games consist of a variety of table games, electronic games, and a poker room for cash games and tournaments. There is something for everyone with roulette, blackjack, poker, and plenty of slots. Members are rewarded with loyalty points the more they play on any of the table and electronic games.
The poker room consists of daily Texas Hold 'em cash games that start at 19:00 and end at 05:00. These games have blinds starting from £1.
CASINO GAMING OPTIONS:

GROSVENOR CASINO – READING CENTRAL DRESS CODE
No need to dress formally at this casino because they welcome guests dressed in smart casual attire. As long as you don't look like you just came from the gym, work, or from watching your favourite sports team you'll be allowed entry. Remember, headwear is not allowed in the casino for security purposes and customers wearing offensive clothing/tattoos will be asked to remove/cover them.
FOOD & BEVERAGES
The casino's bar and restaurant provides plenty of options for snacks, meals, and drinks. The bar is open 24 hours a day and offers their '24 hour menu' with a selection of snacks and light meals. Here you'll also find their extensive range of alcoholic and non-alcoholic beverages. They have everything from beers to spirits. Members receive free non-alcoholic drinks from the bar throughout the day.
There are plenty of meals to choose from their different menus: Absurd Bird, Field & Fin, The Real Grill, Kitchen Bites, and The Good Pud. Each offers a different type of food including fish, meat, poultry, and vegetarian options. They also have a list of handpicked wines that go with all of their available meals.
SPECIAL EVENTS
Live sports and their poker room are the main attractions at Grosvenor Casino Reading Central. Their poker room is where all the cash games take place and it's also one of the locations for the popular Grosvenor Deepstack Poker Tournaments. The live sports are available from their bar area which includes a lounge and plenty of HD TVs.
Grosvenor Casino Reading Central can also help organise the party of your dreams. No matter the occasion and no matter your budget, they can help you. Their packages include different customizable items including food, drinks, and games.
GROSVENOR CASINO – READING CENTRAL MEMBERSHIP INFO
The Grosvenor One membership can be obtained from the reception at Grosvenor Casino Reading Central. You do not need to be a member to enter the casino, but it is free and offers a lot of benefits. After you've signed up at reception you will have to go online to activate your account. This is necessary because Grosvenor One is a dual-use membership for both the Grosvenor local casinos and their online casino. The electronic wallet that you'll receive can be used to deposit and withdraw money directly from the casino. You can also use other payment methods like PayPal, Mastercard, and Maestro, and PaySafe Card via their online deposit function.
As a Grosvenor One member you are able to enter into their prize draw to win a ticket to a live musical performance or entry into their Deepstack Poker Tournament. When members play slots on a Monday they also stand the chance to win Hot Seat prizes. Hungry? Visit the restaurant as a Grosvenor One customer and you'll receive a 10% discount on all the food. Thirsty? All your soft drinks and hot drinks are free while playing in the casino. There are so many benefits to becoming a member that it doesn't make sense not to.
ACCOMMODATION & TRANSPORTATION
This Grosvenor casino is located in the centre of town by the Duke Street Bridge over the River Kennet. It's the first building on your left as you cross the bridge from the northern side of the river, or the last one on your right if you're travelling from the south. There is parking available behind the casino and in adjacent streets. If these are full you can always travel slightly further down the road to Oracle Centre Parking which is available 24/7.
The Great Expectations hotel is the closest accommodation to the casino, located just across Queen's Road. It is a moderately priced accommodation with rooms available from £50 a night. There are quite a few hotels less than 5-minutes drive from the casino, still in the centre of Reading.
Hotel Ibis Styles Reading Centre – 3-star Hotel
Mercure George Hotel Reading – 3-star Hotel
House of Fisher Hotel – 4-star
Reading Services Apartments – 4-star Hotel
LOCAL ATTRACTIONS
Reading has grown a lot over the years from a small market town into the bustling shopping destination it is today. The Oracle is one of the main reasons for this boom and a must-see when visiting the city. It's a spectacular complex that goes from one side of the River Kennet to the other. There are plenty of shops but the complex also goes a long way in preserving the original essence of the town, especially the areas surrounding the Gothic Town Hall and St Lawrence's Church.
Forbury Square is another popular attraction that has grown a lot over the years. It is now a great play to enjoy al fresco dining overlooking the Forbury Gardens. You could also visit the location of the old market or the recently refurbished Butter Market.
NEARBY CASINOS
Reading is home to 5 casinos. The closest option is Admiral Casino Reading, but they are only an electronic gaming parlor with slot machines. The only casinos with table games are both equally far away, approximately 10-minutes drive from the casino. One of the casinos is also part of the Grosvenor casino chain. Grosvenor Casino Reading South is located along the A33 leaving Reading and offers a very similar gaming experience to the one in the centre of town.
Another nearby casino that also offers similar facilities is Genting Casino Reading. Located in Richfield Avenue close to the River Thames, they have a wide selection of table and electronic games as well as a bingo hall and on-site bar. Genting casinos own many branches throughout the UK and also offers a membership.
Fantasy Fun Casino is the furthest away on the eastern side of reading. They offer a well equipped, albeit small, casino with table games and slot machines. They are open from 12 pm until 2 am every day.
GROSVENOR ONLINE CASINO GAMES
Grosvenor Casino Reading offers its guests an exclusive online gaming experience. The Grosvenor online casino is filled with table games, slot machines, progressive jackpots, and even live casino and sportsbook. There is something for everyone and their £30 registration bonus is a great way of saying 'welcome'. There are plenty of online bonuses viewable from their 'promotions' tab. Currently, they have the 'Game of the Week' promotion which gives you bonuses if you play the specific game – which is currently Bar X Safe Cracker Megaways.
Those placing bets on sports will find various promotions including their 'Double the Odds' promotion available on your first bet and their weekly free £5 every time you bet £25 or more. They have also brought back their 'Grosvenor Goals' football predictor game with a huge £1,000,000 prize on the line.
The most popular games listed on their home page are:
Lucky Lady's Charm Deluxe
Reel King Mega
Live Roulette
Heart of Egypt
Book of Ra Deluxe
20p Roulette
First Person Roulette
Extra Chilli
Cleopatra – Their Grosvenor One welcome bonus also extends to Cleopatra Online Slots. When you deposit money for the first time you will receive 100 free spins for this online slot game.
LIVE CASINO GAMES
The action doesn't stop there, Grosvenor Online Casino also has a separate Live Casino section. This is where you'll find some of the most popular games at this online casino, all offering real croupiers to bring the games to life. You'll find many of the same table games available in their local casinos, as well as a few unique options.
Live Roulette
Monopoly Live
Perfect Blackjack
Victoria Baccarat
Deal or No Deal Live
The 'Live from Victoria Baccarat' takes you straight into one of Grosvenors local casinos. The Victoria Grosvenor Casino, located in London, is one of their biggest gaming locations and their croupiers are streamed directly for your online enjoyment.
CASINO RATING
Grosvenor Casino, Reading Central - Rating
Summary
There aren't many places to game in reading, but this Grosvenor Casino certainly covers for that. Table games, electronic games, a bar, dining options, and a great membership – this casino has everything you need and more.
Pros
Very friendly and helpful staff
Good atmosphere
Good food
Cons
It's a small casino
No free parking
BASIC INFORMATION
Casino Name: Grosvenor Casino Reading Central
Location: Reading, UK
Address: 1 Queen's Rd, Reading RG1 4SY, UK
Phone: +44 118 959 4642
Opening Hours: 24 / 7
Table Games: Yes
Slots: Yes
Dress Code: Smart Casual
Grosvenor Casino Reading Central Licensee: Grosvenor Casinos Limited Limited is licensed and regulated by the UK Gambling Commission (See licensee).
THE GROSVENOR CASINO IN READING CENTRAL ON A MAP