Alea Casino Nottingham Review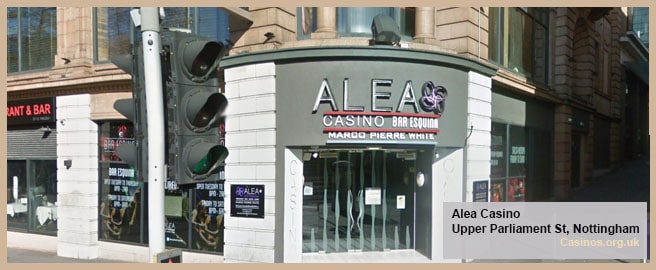 Owned by Caesars Entertainment, the Alea Casino in Nottingham is the most prestigious casino that you will find in the city. Located at 108 Upper Parliament Street, this casino provides a wealth of gaming options across two floors, a fantastic Marco Pierre White Steakhouse Bar & Grill, the Bar Esquina and a dedicated poker room.
The casino is open 24-hours a day and 7-days a week and players will be able to enjoy all of the most popular gaming table games, a plethora of slot machines, dozens of electronic roulette machines and daily poker tournaments and cash games.
ALEA CASINO – NOTTINGHAM GAMES
With betting ranges that will suit bankrolls of all sizes, the gaming floor has a total of 22 classic gaming tables. Roulette, Blackjack and Three Card Poker are among the games that you can enjoy while you can also keep yourself entertained on a variety of electronic gaming machines.
There 18 gaming machines that offer up a choice of as many as 20-games per machine. Many of these games will offer progressive jackpots of up to £20,000. You will also be able to indulge in a bit of electronic roulette with 37 of these Unity 2 machines scattered around the casino.
CASINO GAMING OPTIONS:
American Roulette
Punto Banco
18 Electronic Gaming Machines (20 Slots per Machine)
37 Electronic Roulette Machines
Poker Room (Seats 130 Players)
If poker is more your thing, you are not going to be left disappointed. A dedicated poker room can be found at the Alea Casino in Nottingham. There are 13-tables in total which means that the room can seat 130 people at the most. That is more than enough for the casino to adhere to their regular tournament schedule which sees tournaments played six days of the week.



Furthermore, cash games are also held here on a daily basis. Blinds, buy-ins and chosen poker variation will generally depend on what the current demand is.
ALEA CASINO – NOTTINGHAM DRESS CODE
Entering Alea Casino does not require you to wear a jacket and tie like you might see at casinos in the movies but they do insist that you dress smart/casual. Clothing that will certainly see you refused entry includes tracksuits, hats or caps, football shirts, muscle vests, T-shirts with offensive slogans or anything that is dirty.
Alea Casino also asks that anyone who enters is above the age of 18 and can prove it upon request. That is the legal gambling age in the UK after all.
FOOD & BEVERAGES
Most of you will have heard of the famous celebrity chef Marco Pierre White and at the Alea Casino, you can indulge in some top-quality food from his Marco Pierre White Steakhouse Bar & Grill franchised restaurant. Focused primarily on grilled food, you will still be able to enjoy numerous types of other dishes from their vast and delicious menu.
The Marco Pierre White Steakhouse Bar & Grill is open Monday to Saturday from12.15 pm to 3 pm for lunch and then from 5.30 pm to 10 pm for dinner. On Sundays, the restaurant is only open for lunch from between 12.30 pm and 6 pm.
To complete your night out after hitting the tables and then dining at the restaurant, you might want to consider a few drinks in Bar Esquina. Here you will find regular live entertainment such as Latin nights, dance lessons as well as a bar menu and drinks menu that will not disappoint. This bar is open and 8 pm daily and will close at 2 am Monday to Thursday and at 5 am on Friday and Saturday.
SPECIAL EVENTS
The Bar Esquina we mentioned previously is where most of the entertainment will come from. On weekends the bar hosts live music, Salsa lessons from 6 pm to 9.45 pm and will always be full of a vibrant atmosphere. You can also take advantage of many great deals and promotions here such as the 2 for 1 cocktail that is on offer for a period of time in the evenings.
You could also check out the many group booking packages that they offer. They understand that not everybody knows how to play their casino games so offer tutorial packages among others that include drinks, meals and betting chips as part of the deal.
ALEA CASINO – NOTTINGHAM MEMBERSHIP INFO
While it carries many a benefit, having a membership at the Alea Casino in Nottingham is not a requirement to gain entry. You can sign in as a guest as long as you are above the minim gambling age of 18-years old and dressed appropriately.
As for that membership, if you were to bring just one valid photo-ID, you can register for membership for free. The process will not take long as you will just have to fill out a form, pose for a picture for your membership card and wait for the reception staff to process your membership.
The benefits are worth the wait as well. For a start, your membership card will allow you to earn Caesars Reward Points whenever you play in one of their six casinos in the UK. Those points can then be redeemed for numerous goodies. Not only can you use them to buy drinks, betting chips and food at the casinos but you can also check out their gift shop online where you can get yourself merchandise and even holidays abroad.
It should be noted that only casino members are permitted to park in the Alea Casino car park – another big benefit.
ACCOMMODATION & TRANSPORTATION
As touched upon before, free parking is available at the Alea Casino but this is strictly for members only. So, if you are driving in, it might make sense to sign up for membership when you arrive.
Located in the heart of the city, you will not be too far away from all other main transport options. Most major bus routes stop at the nearby bus stops while a nearby taxi rank waits for those that need to get somewhere quickly. Finally, the Nottingham train station is a 15-minute walk away.
The Britannia, Park Plaza, Mercure and the Jurys Inn will be your most convenient places to stay but being in the city centre means that you will have plenty of other options further afield.
LOCAL ATTRACTIONS
It's all very well spending your nights in the casino while in Nottingham but surely you will want to do something during the days as well?
Why not take a ghost tour at the National Justice Museum, navigate the network of ancient underground caves at City of Caves or enjoy some water sports at the National Water Sports Centre in the Holme Pierrepoint Country Park?
There really is so much to do in Nottingham when not at the Alea Casino with the following just some of the more popular attractions:
Nottingham Castle, Museum & Art Gallery
City of Caves
National Justice Museum
Old Market Square
National Ice Centre
NEARBY CASINOS
Once you have experienced the exceptional Alea Casino in Nottingham, you might want to think about trying out the other three casinos that can be found in the city. They might not be at the same level as the Alea but there is some great fun to be had at both the Genting and Grosvenor Casinos in Nottingham. Furthermore, if poker is more your thing, the famous Dusk till Dawn Poker & Casino is where you should be going.
Genting Casino – Nottingham
Dusk till Dawn Poker & Casino
CASINO RATING
Alea Casino, Nottingham - Rating
Summary
If you wanted to go all Robin Hood by 'effectively' robbing from the rich casinos and giving to your poor wallet in Nottingham, the Alea Casino is arguably the best casino to visit. It is certainly the largest and offers the most gaming options and we would also say that the overall experience is the best too.
You do have other options of course but the Alea Casino should definitely not be missed when you are in Nottingham.
Pros
Great atmosphere
Very helpful and friendly staff
Good selection of tables and machines to play
Good service
Daily poker tournaments except Wednesdays
Cons
Very busy on Friday and Saturday nights
Bar prices are a bit high
BASIC INFORMATION
Casino Name: Alea Casino Nottingham
Location: Nottingham, UK
Address: 108 Upper Parliament St, Nottingham NG1 6LF, UK
Phone: +44 115 871 8942
Opening Hours: 24 / 7
Table Games: Yes
Slots: Yes
Dress Code: Smart Casual
Alea Casino Nottingham Licensee: London Clubs Nottingham Limited is licensed and regulated by the UK Gambling Commission (See licensee).
THE ALEA CASINO IN NOTTINGHAM ON A MAP