Horizons Casino – London Review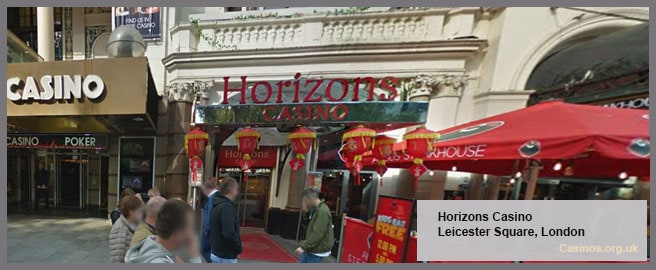 Horizons Casino is a casino located just off Leicester Square in the City of London. This is the only Horizon Casino in the UK and their team of dedicated staff ensures that you'll have the experience to remember. All the most popular UK casino games can be found here like roulette, blackjack, and plenty of slot machines. Horizons is a members-only casino but their free membership can be obtained quite easily upon arrival.
In addition to their casino games, Horizon Casino also offers a quality dining experience with full-course meals, late-night dishes, and light snacks available. Their bar has something for everyone and here you'll find a few HD TVs to enjoy the latest sporting action.
HORIZONS CASINO – LONDON GAMES
The casino games at Horizons Casino are all up-to-date and feature high-quality tables and the latest electronic gaming titles. You can find their games on the main gaming floor divided between their table gaming and electronic gaming sections. Baccarat, roulette, blackjack, and poker are all available as well as regular and progressive jackpot slot machines. The blackjack tables also have a few extra side bets to keep things interesting.
CASINO GAMING OPTIONS:

HORIZONS CASINO – LONDON DRESS CODE
Horizons Casino is designed for everyone in mind and they do not have any set dress code in mind. That being said, they only have one rule and that is what you're dressed in has to be of an acceptable standard and should not be likely to offend and of the other customers.
FOOD & BEVERAGES
The restaurant is open every day from 5:30 pm until 11 pm, but apart from these times you will still be able to order from their light meal and late-night menus. Their main food menus follow eastern and western cuisines. If you choose the 'eastern menu' you can choose from entres and mains from various different Eastern cultures, including Singapore Noodles, Hummus, and Wonton Soup. While if you choose from the Western Menu you can choose from classics like rib-eye steak, prawns, and lamb cutlets. They offer a set menu which is available for £25 and includes an entre and main course.
If you're looking for something to eat or drink while gaming you can choose from their drinks menu, light meal menu, and a late-night menu. All of their light meals can be purchased for £5 each and their drinks menu includes everything you'd expect to find at a bar with a wide selection of spirits, wines, and ciders/beers available.
HORIZONS CASINO – LONDON MEMBERSHIP INFO
Horizons Casino is currently a members-only casino but this is planned to be changed in the near future. However, for the time being, you will have to become a member upon arrival before you'll be allowed access. To become a member you will only need an ID if you look under the age of 21 or if you gamble more than £1,500. Membership is required for access to both the casino and restaurant.
ACCOMMODATION & TRANSPORTATION
Getting to this area of London will require you to drive to the centre of London just west of Buckingham Palace. Getting parking near the casino might prove difficult because of their lack of private parking, however, there are plenty of public parking spots in the nearby streets close to Leicester Square.
If you plan on staying close to the casino you'll have quite a few options to choose from. The Premier Inn London Leicester is right next door to the casino and offers affordable rooms in their 3-star hotel. There are a few other options next to Leicester Square, including 4-star Victory House Hotel, 4-star Hotel Indigo London, and 5-star W London Leicester Square. These hotels are all within walking distance from the casino and all the popular tourist attractions.
LOCAL ATTRACTIONS
Leicester Square is located in the heart of Greater London in the city centre. This small suburb is bordered by some of the most famous areas in London, including Mayfair, The Thames River, and Buckingham Palace. All the local attractions that you'd want to visit when coming to London are within walking distance from the casino but there are also plenty of taxis and bus stops in the area to make your life easier.
The most popular attractions in the area are:
The London Eye
Royal Opera House
Piccadilly Circus
Sea Life London Aquarium
St James Park
Buckingham Palace
Hyde Park
Westminster Abbey
NEARBY CASINOS
Leicester Square's central location ensures that you have many other casinos to choose from while visiting Horizons Casino. There are 4 casinos in Leicester Square itself, with one casino – Empire Casino – located next door to Horizons. These casinos all offer similar gaming experiences with table games, slot machines, and basic dining/beverage options. Other options in this area are Lola's Underground Casino, The Hippodrome Casino London, and The Rialto Grosvenor Casino Piccadilly.
If you're interested in travelling a little bit further you'll be able to visit some of the finest casinos in the UK. In the nearby neighbourhood of Mayfair you will find the most exclusive casinos in the country, only opening their doors to members. Casinos like Crown London Aspinalls, Crockfords Genting Casino, and Les Ambassadeurs all offer luxurious gaming experiences that you'll never forget – but remember, members only.
CASINO RATING
Horizons Casino, London - Rating
Summary
Leicester Square is a popular gaming area of London and Horizons Casino is definitely one of the leading names. If you're looking for quality table games, slot machines, and dining options then this central London casino is a good place to start. With so many tourist attractions, accommodation, and nearby casinos, Horizons Casino is perfectly situated for any visit to London.
Pros
Excellent atmosphere
Very friendly, professional and helpful staff
Good food and drinks
BASIC INFORMATION
Casino Name: Horizons Casino – London
Location: London, UK
Address: Queens House, 1 Leicester Square, London WC2H 7RN, UK
Phone: +44 207 494 3126
Opening Hours: 24 / 7
Table Games: Yes
Slots: Yes
Dress Code: Smart Casual
Horizons Casino – Chinatown Licensee: Napoleons Leisure Limited is licensed and regulated by the UK Gambling Commission (See licensee).
THE HORIZONS CASINO IN LONDON ON A MAP